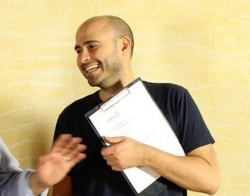 Hrag Jansezian

Beirut, Bayrut
Life Coach, Relationship Coach
BA, CTAA, Certified Counseling Practitioner & Life Coach from The Academy of Modern Applied Psychology
Do you need support achieving your goals, creating meaningful structure in your life & rebuilding relationships? I offer support to active/recovering addicts & people struggling with relationships.
About Me
Are you or someone you care about struggling with addiction? As an addiction coach, I help clients struggling with drug addiction, alcoholism and behavioral addictions such as gambling, shopping and sex.
Being in a relationship can be our greatest challenge. Are you confused about what you want? Do you want to be together and enhance your love but don't know how? Have either one of you been hurt by the other? Is it time to call it quits? As a relationship coach, I help clients communicate, reconnect and find harmony with their loved ones.
Every day we make choices to do or not do many things, as your coach I can help connect your thoughts and learn how to make choices that will change your life for the better. I live by 3 principles which are the foundations to my coaching. They are unconditional positive regard, empathy and genuine openness. By creating a safe, non-judgemenal environment, we begin to interpret your thoughts and behaviors using a talk therapy approach.
When it comes to addiction, based on my own experience, I found it most helpful to talk to someone who understands what I'm going through. As a recovering addict myself, I know whats its like to wake up everyday obsessing over the next drink or fix. Have you reached to a point where your life has become unmanageable? Are you sick and tired of being sick and tired? I'm here to say that all hope is not lost and anyone, no matter how hopeless it may seem, can get back to living the life they dreamed of.
After getting clean, I decided to pursue my passion and put my life experience to use. I am a certified Counseling Practitioner from The Academy of Modern Applied Psychology and trained as a Life Coach through Achology.
I also have a BA in Video Production with over 10 years experience and I have produced over 100 videos. During that time I co-founded my own company, Creative Seed Studios and grew to a 12 person team.
Together, we can apply the tools necessary to get your life back on track.
Reviews
8 reviews (5 verified) (5.0)
If you are looking for someone to give you some miracle advice to change your life or situation (like those you find on tv or youtube), Hrag is not the guy for you. Instead, Hrag offers a world class listen ear and asks you crucial questions that facilitate your journey to recovery while keeping it ruthlessly real (cause life is ruthlessly real). Rather than offering you a spoon fed, do this or that, experience, he plays the role of a guardian angel ensuring that the path you take is the one best suited for your own personal growth/objectives. In my case, I met Hrag when got dumped my 4 year long, long distance girlfriend. When I came to him, I had hoped that he would offer me a "after X weeks of no contact do this and blah blah blah". Hrag did not offer me that solution, rather he prepared me for the various possible outcomes and ensured that the path taken was one that I wouldn't look back in regret. Fast forward a few months later, I realised that my ex may not have been the best life partner for me and I am happily dating someone new (and she's awesome). The other aspects of my life have also improved vastly since meeting Hrag. In all, it was a holistic and wholesome growth for me. Not to mention, Hrag is a really cool guy and I no longer see him as just a coach but also a friend. You wont regret your decision if you choose him!

Ethan
Let's start with Personal Development. Because that's why we're here isn't it? Hrag has been an amazing resource for me. I have always had trouble prioritizing the things I value. Hrag has helped me recognize when I begin to self sabotage and given me tools to find better ways of approaching obstacles. He's helped me through a rough patch in my relationship and so much more. With Hrag's help I've been able to organize my person and professional life and tackle a very large change in my life. I recently quite everything to pursue a new, self employed, career. Hrag has helped me keep on track and stay focused while dealing with ever changing obstacles. Okay, onto professionalism and communication. I was a little worried before talking to Hrag that there might be a language barrier. But Hrag has perfect English and we have never had a problem communicating. In fact he is very easy to talk to. We can relate on a personal level and he has always been nothing short of professional in our discussions. My only complaint with Hrag is his availability. I currently live in New Zealand and work 7 days a week. I am only free in the mornings before work or the evening after work. Because of our time zone differences the only practical time to meet is at 6 in the morning. Which is a little too early for me. I should say that Hrag has to meet with me at 10 in the evening his time. So I do appreciate his flexibility with my schedule.

David Galle
When I started meeting with Hrag, I had just lost my university professorship and had no prospect for a university job where I lived. Hrag was aware of my successful gratis career coaching and counseling of addicts and alcoholics. Finally he suggested, why don't you turn your experience into a coaching and counseling practice? What a relief! Problem solved and now I've embarked on a new career!

Robert Gallagher
I've been through many coaches in my life, all in which played some what of a role.. but there is no one who comes close to lessons I've learnt through the coaching from Hrag. He's a very straight forward guy, says it how it is, understands what I'm going through and most of all helped me over come many obstacles. Looking forward to many more coaching sessions and a great friendship ahead!

Khajack
Before I started working with Hrag I was early in my recovery. I had to deal with emotions and outcomes in my life that I had long abandoned due to my addiction. I felt lost, confused and depressed. After working with Hrag for several months, I became able to reconnect with my loved ones, re-establish my career and gain back my confidence. Now I have the support and trust of my family and my path and goals in life are now in my hands.

Arax D.
Hrag helped turn my chaos into power! Before the sessions, I was in a dilemma, hrag redirected my thoughts.. He taught me how to use my brain more than my heart in order to reach the truths and most importantly boosted my self confidence...with the help of the sessions, I'm more assertive seeking what I deserve most!

L.S.
I reached out to Hrag to find a way to deal with my addict husband and father of my 2 kids. I wanted someone to tell me the other side of the story and as a recovery addict and a father himself, Hrag was THE person I needed. He had the experience, the empathy and the tools not only to make me understand what i couldn't, but to accept the harsh reality and most importantly to gear my emotional investment towards ME. I learned that if sometimes you can't save the addict, it's never too late to save yourself.

L. K
Before I started working with Hrag, my life was in shambles. I realized after a year into my marriage that my husband is an addict. He would be constantly lying and stealing. I felt angry, scared and betrayed. After working with Hrag, I became able to process my emotions and use the tools provided to deal with someone suffering from addiction. Now my husband is getting the help he both wants and needs and I can connect and communicate with him in a manner that is both healthy and constructive. A new chapter in our lives has just begun.

Lina