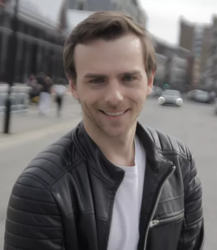 Iaroslav Rybakov

Montreal, Quebec
Career Coach, Leadership Coach, Life Coach
M.Eng, Project Management Professional, Pilot.
I help millennials unhappy with their jobs in engineering or software to create a life plan for the next 5, 10, or 20 years of their lives so that they can make the right career/life choices for them.
About Me
I help millennials unhappy with their jobs in Engineering or Software to make the right career choice based on who they are, what they want out of life and the difference they want to make. These are tough questions to answer, but doing so gives you a solid set of design requirements by which you make crucial decisions.
You wouldn't design an airplane or an app based on a feeling or on a hunch you have. But that's exactly how most people pick their careers and life paths. With Life Engineering, I help you apply the engineering design process and project management principles to help you design and build the life and career you want.
Maybe you work hard, play the corporate politics that you hate so much and end up overstressed. You look at your boss and see everything you don't want to be. Or maybe you are unchallenged and epically bored. You Wake-Up -> Work -> Watch Netflix -> Sleep -> Repeat until retirement in 35 years. You don't care about what you do at all.
Either way, every morning you have to drag yourself out of bed. You barely take time for yourself or doing what you want. You have no control over your life and circumstance is making all the decisions for you. You have doubts if your career is the right fit for you, but at the same time, you have no clue what else you can do. That's when people like you come to see me.
It doesn't have to be that way. My clients wake-up determined and excited every day. They understand that their life is not their work. They make their jobs work for them. They start new projects, build new businesses, make changes to who they are and become inspirational leaders. They do not waste their youths simply doing what everyone else does or what is expected of them.
Reviews
6 reviews (5.0)
Hello, my name is Christopher and I am a 28-year-old Marketing Manager and a Personal Trainer. One of the dreams that I always had in life was to be able to travel every year and be independent of a job. I already had an idea of what I wanted, but I was not sure about the path forward. I also had trouble believing in myself. I wasn't confident that I could achieve my dreams. We first explored what was my purpose in life. Then we went into more detail about who I was. We looked at my strengths, weaknesses, values, and personality traits. That was useful for me because it showed me the areas I needed to improve on. I now know that I need to focus on building discipline and an unwavering belief in myself. Then we got into the lifestyle design exercises. There are three important lessons that I learned: When we put a price tag on all of these items, I was shocked at how accessible they were. Sure there are a couple of expensive items on that list. But I could have 95% off everything on that list and I dont need 100k-200k to do that, that was brilliant. I knew exactly what were the personality traits that I needed to work on to make all of this come true. I could see the contrast between my existing skills and strengths and the ones I needed to develop to accomplish my goals. Once I put all of these to paper and I had a clear destination in my mind I could suddenly see all the steps required to get there. It was I suddenly was given a roadmap. I wrote all the steps down and created my life plan of what I needed to do in the next 5 to 10 years. One of the most valuable things from this program is the design process for your life. We built a roadmap for life that shows me EXACTLY what steps I need to take to achieve my goals. I got my moneys worth and then some. I was already kind of on my way there, though in a much more disorganized manner. For someone that is just stuck at a job. Someone bored and overwhelmed. Someone that has no clue where his life is going and wants to have a purpose and do something meaningful, this is invaluable. I cant even begin to imagine the transformation they will go through. If youre watching this and this is you. Then you NEED to do this. This is a truly life-changing program.

Christopher
My name is Allen and I am a student athlete. At the beginning of 2020, I wasn't too sure what I wanted to do with my life and I was in the process of understanding myself. I then met Iaroslav and worked with him in his Life Engineering program for about 6 months. It was a great experience. We worked on defining who I was, what was my purpose and values. Then we switched to what I wanted out of life, and we created a 5 year plan as to how I could get there. But the most important lesson i took from the training is realizing how truly important social connections were for me. I used to choose my soccer practice over almost everything in my life. But these days I make intentional choices to make time for my friends and family. I feel much better because of that. I am now in computer science at UDM and I make overall better decisions that align with what I truly value and want in life. For example, now I call my friends almost every day towards 8.30 and talk with them because it makes me happy.

Allen
My name is Paul and I am an aerospace engineer. At the beginning of 2020, I was looking to understand how to balance life pressure such as work, personal relationships, career goals and expectations.. I then met Iaroslav and worked with him in his Life Engineering program for about 6 months. The experience brought me clarity. I came in and I knew pretty much what I wanted to do already. But I had trouble with the how. We worked on defining who I am, what I wanted out of life and we made a 5 year plan as to how I could best get there. But the thing that changed my general perspective on life was seeing how all the different aspects are like puzzle pieces that should neatly fit together to draw a single coherent picture. For me it means my relationships, my emotions, my values, my financial literacy - all important things that I need to work on so that together they will make my goals and dreams come true. Fast forward a couple of years Im actively seeking new experiences: i moved across the country, I am in the process of buying a boat to live in and I am looking for a flying job.

Paul
Hello, I want to share that I had a experience where Iaro coached me on identifying my core purpose. I am a Leadership Coach and I wanted to give myself an edge by settling on my deeper purpose as a coach, what I stood for and how I could use that to help my clients even more. Iaro was great. He worked with me to truly explore and provided great feedback and challenged me to make sure I got to the end result that really worked for me. He provided structure and also boosts of energy which I needed as this was a hard process for me. With his help, I now have a clearer view of why I fundamentally do what I do. This has inspired me and allowed me to come up with more ideas on how I can coach for maximum impact on my clients and my own personal fulfillment. Len Madigan Leadership Impact Coach and Mentor Montreal, Canada

Len Madigan
Iaroslav is an excellent coach. After several months of uncertainty and lack of direction or purpose, it was a real pleasure to find Iaroslav, who guided me through all sorts of coaching exercises to better understand my own values, goals, dreams and motivators. His coaching helped me choose a professional path, and gave me the confidence to successfully apply to graduate school and jobs. I'm certain the lessons I learned will continue to serve me for life I highly recommend Iaroslav as a coach.

Claire Lat, Graduate Student, Canada
Working with Iaroslav was a phenomenal experience. I wanted to change professions and was looking for my niche. After answering various questionnaires and discussing it with Iaroslav, he not only helped me find my niche but see my strengths and purpose. The value exercise put everything in perspective for me. At the moment, I'm in the process of putting together my website with the proper content thanks to Iaroslav. Iaroslav was attentive, patient and made me feel very comfortable. I highly recommend Iaroslav.

Eva Maniatis