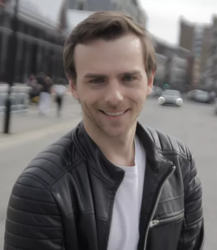 Iaroslav Rybakov

Montreal, Quebec
Career Coach, Life Coach, Leadership Coach
M.Eng, Certified Associate in Project Management, Pilot.
You studied hard, got the good job but still feel unfulfilled? I help young professionals build a passionate career by understanding who they are, what they want and the purpose of their life.
About Me
Want to see what your life will look like in 5 years if you keep doing exactly what you are doing now? Just look at your boss. In 20 years? Look at your boss's boss. Does that picture scare you?
When confronted with that reality most young professionals switch jobs only to realize that the grass isn't greener on the other side. They are lost, directionless and living life on autopilot. As a result they are making career choices without a clear understanding of who they are and what they actually want. As a result they end up bored and unhappy with their work. That's when they come to see me.
It doesn't have to be that way. You can wake-up every day and be inspired by what you do knowing that it is getting you closer to your goals. As a purpose coach my job is to help you find what inspires you and create a plan on how to get to it. To do so I take my clients on a journey of self-discovery that allows you to find three things:
1. What is your purpose or what kind of impact do you want to have on others?
2. What are your best skills, strengths and values that will help you achieve that?
3. What exciting lifestyle do you want to build for yourself in the process?
By the end of the program my clients have clear picture of what they want their life to look like and how to make the right life and career choices to get there. They also wake up every day and feel like what they do is important and makes a difference.
I have been coaching for two years now, I have a certification in project management and 5 years of experience in leadership positions. Back in 2015, I was graduating from Mechanical Engineering knowing that this is not what I wanted to do for the rest of my life. I then spent 5 years in the military where I learned the most invaluable leadership lesson: Fulfillment is found in watching others succeed with your help, not in succeeding by yourself. So, my purpose is to inspire some so that they, in turn, inspire others. This is why I coach.
Reviews
3 reviews (5.0)
Hello, I want to share that I had a experience where Iaro coached me on identifying my core purpose. I am a Leadership Coach and I wanted to give myself an edge by settling on my deeper purpose as a coach, what I stood for and how I could use that to help my clients even more. Iaro was great. He worked with me to truly explore and provided great feedback and challenged me to make sure I got to the end result that really worked for me. He provided structure and also boosts of energy which I needed as this was a hard process for me. With his help, I now have a clearer view of why I fundamentally do what I do. This has inspired me and allowed me to come up with more ideas on how I can coach for maximum impact on my clients and my own personal fulfillment. Len Madigan Leadership Impact Coach and Mentor Montreal, Canada

Len Madigan
Iaroslav is an excellent coach. After several months of uncertainty and lack of direction or purpose, it was a real pleasure to find Iaroslav, who guided me through all sorts of coaching exercises to better understand my own values, goals, dreams and motivators. His coaching helped me choose a professional path, and gave me the confidence to successfully apply to graduate school and jobs. I'm certain the lessons I learned will continue to serve me for life I highly recommend Iaroslav as a coach.

Claire Lat, Graduate Student, Canada
Working with Iaroslav was a phenomenal experience. I wanted to change professions and was looking for my niche. After answering various questionnaires and discussing it with Iaroslav, he not only helped me find my niche but see my strengths and purpose. The value exercise put everything in perspective for me. At the moment, I'm in the process of putting together my website with the proper content thanks to Iaroslav. Iaroslav was attentive, patient and made me feel very comfortable. I highly recommend Iaroslav.

Eva Maniatis