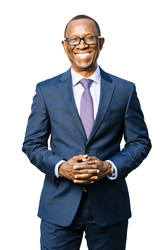 Business Coach, Life Coach, Leadership Coach
Advance studies in organizational behavior short of the dissertation to earn the doctorate - graduated from Goldman Sachs 10,000 Small Businesses
I help small business owners and individuals grow themselves and their businesses while keeping a healthy balance in the other important responsibilities in their lives.
About Me
As a coach I use technical approaches combined with time-tested and proven principles to help my clients see where they are and how they can overcome the barriers that keep them from achieving their goals. I help them develop a personal growth plan and a transformational vision.

I also use intuition to know what additional questions to ask them and to encourage them to go deeper within their minds and hearts to find the solutions to their problems. As a trained coach and practitioner, I know very well that the solutions we are looking for usually come from within.
More about me!
Illens is a coach, business strategist, and trainer. He is also a passion
and dynamic speaker who keeps his audience engaged whether it is a small group or a full crowd of over 1000.
He is the Founder of Maximum Impact Council, that helps small business owners and executives accelerate their personal and business growth. Illens is also the author of Thinking and Acting with a Compassionate Heart – a bestselling book. He is currently writing a business book – Overcoming the 5 Secret Fears of Failing in Business.
Illens has earned a BS from Brigham Young University in electronic engineering technology. He also earned an MBA from University of Phoenix. He is an adjunct faculty at Brigham Young University.
Before becoming a serial and social entrepreneur, Illens worked for 3 major world-class technology companies. Illens is also a DISC (behavior profile and assessment) consultant, business consultant, corporate trainer, and leadership coach. He is also certified with The John Maxwell Team, Becoming Your Best, and Empowered Mentoring.
Above all Illens is a husband, father of six children, and grandfather of 10 (soon to be 12).
Reviews
7 reviews (1 verified) (5.0)
Illens is amazing and so supportive! I feel I have a partner in getting my nonprofit up and running!

Sheree Williams
Illens is one of the best decisions I have ever made. Illens pushes me in ways no one else can. I have come a long way, in the short time since working with Illens.

Alicia
Illens cares about people. He not only helps you to define your goals, he gives you the support and confidence to see your way to them. I would highly recommend Illens as a coach.

Michelle Lockhart
I've had nothing but positive experiences with Illens. He has an abundant mindset and is very encouraging. He brings to the table a lot of experience and knowledge and is a leader who holds one accountable. He not only has helped/coached me personally but also in a team environment when we needed some assistance getting over some hurdles surrounding how to get different personalities to work in a smooth and cohesive manner.

Mike Lyman
My Name is Brett Littke. I am a Registered Nurse from Orem, Utah. For several years I have been receiving "Life Coaching" from Illens Dort. He is part of the John Maxwell team and has broad experience in business, teaching, and raising a large family. It seems there are numerous professionals that are ready to solve narrow specific needs we all have; like repairing your furnace or straightening your teeth. Those are certainly important. However, I have often felt the need for someone to help me fit together all the complex pieces of life without falling apart. Illens has prepared and positioned himself to do just that. Meeting together twice a month on a zoom call, we discuss family challenges, finances, work, relationships and current events that affect me. The topics are whatever is priority for me. I greatly appreciate being able to be the final judge of whether our session was effective. Here are some examples of how he has assisted me in everyday life: Recently needed to motivate my son to move a non-working motorcycle from a parking spot in the garage. Previously he was not responding quickly to my requests for other assistance around the house. Discussed this issue at length with Illens before taking action. In this case I emphasized to my son that I needed help that only he could provide and attached a deadline of 24 hours. No criticism was involved. He completed the task without complaint in 48 hours. Another challenge Illens helped me meet was obtaining a birthday gift for someone who was difficult to please, and their birthday had already passed. He outlined 2 essential elements to the process: First, investing my time and effort into the gift. Second, assuring it was completely appropriate to what that person wanted. Planning a surprise gift has never been my talent. In this case I was able to probe for clues without spoiling the surprise and also include thoughts from my heart in the presentation of the gift. It was gratefully accepted. The final example I wish to share was being introduced to an excellent mortgage broker whom Illens recommended to me. This agent provided us with a competitive rate but additionally with very low fees to close on a new home. That alone was a terrific service. A year and a half later we were pleasantly surprised when this same agent informed us we could refinance at an even lower rate. Sought advice again from Illens before moving forward, which we did. The second refi saved us $300 a month for the life of the loan. Hope you will consider how some extra wisdom might improve your life and enlist the services of Illens Dort.

Brett Littke
I chose to work with Illens Dort as my business coach based on his experience and his high level of integrity. Illens has a good understanding of people and the ability to connect with individuals who are seeking growth. He has a remarkable way of meeting his clients where they are and then bringing them to a higher level. When I began working with Illens, I was transitioning careers and he set personal and professional goals with me and held me accountable to those goals. He challenged me beyond my comfort level and had high expectations for me. Illens honest and straightforward approach is refreshing and I highly recommend him as a coach to anyone who is truly committed to the process of growth.

Shelly Smith Bush
Illens is such a kind and caring person. He provided actionable feedback, connected me with other like-minded people to help me grow my business, and consistently "showed up." Illens doesn't just "talk the talk," he "walks the walk."

Dr. Kim Mogilevsky