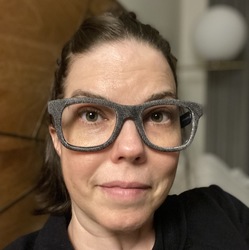 Indigo Esmonde

Montreal, Quebec
Life Coach, Executive Coach, Spirituality Coach
I work with emotional skydivers: people who want to take big risks and do scary things. I'm the skydiving instructor who cheers you on, takes you up in the air, and gives you a push when you need it.
About Me
I work with people who want a life that delights and surprises them, who want to take big risks and break the rules that have been keeping them small.
I believe that most of us learn, as kids, that we can't have what we want. Some of us decide it's not even worth trying. We get very good at hiding from the world, and from ourselves, and by the time we're grown, many of us don't even know what we want anymore. The available options are ok… not exciting, but ok.
You don't have to live an ok life. You can have a grand, exciting, weird life. I believe that everyone deserves to have a life they love. I'll help you find the secrets you've been keeping from yourself, and we'll let your inner voice guide the way.
Five years ago, I left my secure, comfortable job as tenured professor of Education at the University of Toronto, because my heart wanted me to be an artist. As an artist, I love uncertainty (even when I hate it), and I've trained myself to listen to my inner voice of guidance and inspiration. I'm constantly learning as much as I can about the world around me, about how to make great art, and about people (how they work, what they want, what blocks them). Then I pick up the paintbrush (or guitar, or pencil) and forget all the learning, so I can listen to that inner voice and make something mysterious and surprising.
Coaching, to me, is like creating art with my clients. We dive into uncertainty, and listen for that inner voice, and learn everything we can, and take steps in the direction of something beautiful. Recent clients have praised me effusively, telling me that my sessions are "cosmically powerful" and "magical." I'm proud of this work, but also surprised every time a coaching session mysteriously creates something beautiful. I don't have a system except: listen, love, cheerlead, and, when needed, push the client out of the plane so they can land somewhere new.
One more thing: I'm trans/nonbinary and love working with trans and nb clients.
Reviews
Indigo is the real deal. I connected with Indigo at the suggestion of a friend and colleague, a suggestion that triggered me from seemingly out of nowhere. I resisted for maybe 30 minutes and then I booked a plane jumping session because there was clearly something there that needed to be explored. Communication with Indigo was really smooth and easy. We scheduled via a provided link. I found their availability to be flexible and accommodating for most schedules. It fit. I approached our session with no expectation. It was articulated very clearly at our initial introduction that timeliness and sticking to our allotted time was the only rule we needed to adhere to. I'm a big fan of clarity. And I really appreciated the rules of our container. Most importantly, it worked. It worked absolute wonders. I met with Indigo on 4/22 after 20 minutes or so of intuitive questioning we rooted out the source of my personal disorganization and determined one line of approach. With 10 more minutes, I was supported in devising a plan B. Today is 5/14. I wish I had thought to take before and after photos. The shift has been so dramatic. Like dramatic in the sense that I can't wait to do my dishes or fold the laundry. And I've started to dust for fun. Who does that? Me. I do that now. Because 30 minutes of Indigo's attention and insight is really powerful, healing medicine *IF* one has the desire to really go there and be present with one's self. Indigo's services are perfect for the blocked shadow worker or for those who are venturing into the space of radical (meaning: rooted) accountability. The more courageous one can be in exploring honesty within one's self, the more impactful the energetic movement can be. I really respect and appreciate Indigo's use of tangible metaphor to generate decisive energetic flow. Our time together was one of the greatest investments of my time, energy, and attention. I am humbled, grateful, and inspired through the receipt of these truly gifted services. 111/10 (not a typo)

Amanda Kirchgessner