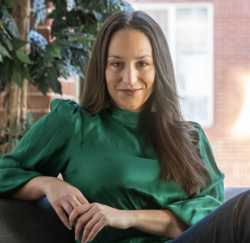 Ioni Papadakis

New York, New York
Entrepreneurship Coach, Business Coach, Performance Coach
MCC
You're a driven multi-passionate who wants more in your job, biz & life but are overwhelmed & can't articulate your value. We'll create the structure, strategy, leadership &the habits to shine! Msg me
About Me
Hello and welcome!
I am Ioni, founder, owner and master coach at 9 Elephants Consulting where I help the following types of people to (excuse my french) get sh*t done!
•Small business owners
•Future entrepreneurs
•Driven professionals
Whether you already run a small business, dream of starting yours one day or simply want to level up, I am here to support you. I help guide you, get you unstuck and create the structure & systems you need to crush your business or career goals in 2023 and beyond.
By working with me you will:
✓ Start an online business or level up your leadership in your job
✓ Get the strategy & structure to scale to your first 5k month
✓ Feel confident in your niche, product suit & natural strengths
✓ Learn to lean into a leader/mentor role in your business or job
About me:
For the past 2 years I own and run a coaching business where I specialize in coaching ambitious, hard working entrepreneurs & professionals. I have developed people for +10 yrs and completed 4000 coaching hours. Prior to my business I became the youngest female leader to manage the largest & highest performing national sales department. In my 20s I was +50k in debt & became almost homeless. I turned my life around, hit 6 figures and now I am completely debt free.
Through my leadership coaching approach you will:
✓Stop feeling doubt, fear & overwhelm & show up powerfully
✓Learn to strategize. We will develop a clear & simple strategy
✓Better manage any fires. I will coach you on processes & habits
✓Sharpen your leadership skills for your business, life or job
✓Fearlessly build the business of your dreams (or level up in a job)
✓Receive honest, no BS feedback
✓Create tangible results for once & for all
While I coach you to "Think like a Leader and Execute like a CEO"© I will walk alongside you to ensure you hit your 2023 goals.
You have the talent & vision, but I have the experience & process to guide you to do and become more. Msg me to set up a free consultation now.
Reviews
3 reviews (5.0)
Ioni has an inexhaustible pool of knowledge when it comes to business development ! I was struggling to grow my brand and thanks to her expertise I became more productive, customer focused and accountable. If you're lost... She'll be your compass. Highly recommend her coaching services !

Elie Najm, Social Media Expert
Working with ioni felt like having a partner for my business. She was such a team player and i felt she was very attentive, organized and knowledgeable (she helped me with sales). She helped keep me accountable to achieve my sales goals which was incredibly valuable. Her approach was friendly, professional and honest with a lot of tough love haha. It was easy to connect with her from day one,I felt very comfortable. She was very transparent in her coaching and feedback without making me feel judged or that I am in a classroom. I've worked with coaches before and it turns out what I was receiving was more of advice or mentoring, but with Ioni it seemed that I was guided to create my own solutions and overcome some of my most challenging limiting beliefs. I would recommend any ambitious professional to work with Ioni at any point in their career and business. Alfred G

Alfred G
Ioni helped us build a better revenue plan for our small business. Our sales are already up almost 20% month over month after working with her for 6 months. We have more structure in our sales and marketing activities and way more of a clear idea on where our times goes. We would recommend her consulting and coaching services.

Abdul M.