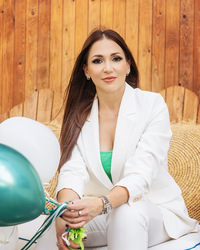 IRINA Gritsevskaya

Dubai, Dubai
Money and Finance Coach, Life Coach, Performance Coach
MA
I help my clients become more self-aware and present to their patterns, behaviours, tendencies around money, create a greater financial balance and ultimately transform their relationship with money.
About Me
There is so much I owe to coaching.
As a matter of background, I started my career in 2001, after finishing my school with distinction (or "golden medal" as we call it in my country) and graduating from my University with distinction, too (or with "red Diploma" as we name it).
I come from a family of doctors (my both parents are doctors), and I think this calling to help people heal has been always running in my blood and has become part of our family DNA.
In the past 20 years I worked in Fortune 500 multinational corporations, with a progressive career in the field of Marketing. I have acquired 2 higher education degrees in Communication and Marketing in my home country, and I am also a graduate of High Potential Leadership program with Harvard Business School.
While I was always a high performer - at school, university, work - something was not fully working for me on the personal side, the side of relationships, feeling of self-worth and self-esteem, feeling of living the life with purpose and fulfillment. This brought me into coaching in the year of 2018. First, I started to work with coaches myself, I was getting coached. The more clarity I was getting from the processes I was going through, the more I wanted to help others with their personal breakthroughs. This is what led me to go through a certification program and start my coaching practice helping others.
Today, I am a Certified Money Coach and that's my preferred field of coaching at the time. I am also a Certified NLP & Life Coach, Emotional & Mental Release Practitioner, Hypnotherapist and NLP Practitioner.
It's extremely rewarding for me to see my clients gain clarity in their life in the areas that they want to make progress. I am truly humbled to see shifts and breakthroughs in my clients already starting to happen from the first session, where they get to feel more motivated and empowered, as well as crystal clear on what they really want to do in life and ready to make a change.
Reviews
IRINA doesn't have any reviews yet.