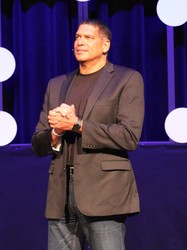 Jack Perry Jr

Peachtree City, Georgia
Executive Coach, Leadership Coach, Business Coach
BS, MBA, Arbinger Outward Mindset, DISC, Gallup Strengths, Certified 360 Administrator
Seasoned executive coach providing expert support to corporate clients as well as individual leaders, seeking enhancement of performance, career trajectory, and personal well-being.
Details

Peachtree City, Georgia 30269
770.330.9212
Send Message
Visit Website
Hourly Rate: $150 to $350 US Dollars
Gender: Male
About Me
Accomplished Executive Leadership and Development Coach with a proven record of success in mentoring and coaching
senior level decision makers with Fortune 500 companies, both nationally and internationally, to improve overall business
performance. Sanctioned by the International Coaching Federation (ICF) as an Executive and Personal Coach. Certified
facilitator, speaker and television host. Graduate of and Senior Consultant at the Arbinger Institute. Highly successful at
tailoring programs to meet client's needs and improving organizations through effective storytelling and emotional
connections.
Reviews
6 reviews (5.0)
I've had the pleasure of knowing Jack Perry for two years. I know him to have the rare quality of a keen intellect coupled with a sharp emotional intelligence that allows him to connect, lead and influence people in many different venues. If you have the opportunity, get Jack on your team -- you'll be glad you did!

Scott Goodspeed, Recruiting Manager, The Matrix Group
In my many years in business, I have found that very few exhibit the clear vision, the strong leadership capabilities, and the empathetic view that it takes to make an outstanding leader. Jack is among the best. I have been impressed with his deep passion to serve and his dedication to giving the best of himself, and insisting on nothing less from others at all times. Jack is a leader and guide I wholeheartedly recommend.

Tony Hawkins, Principal, BoomerLake Project
Jack is a knowledgeable Leader in Governmental Affairs and negotiations within the Private Sector. Jacks ability to analyze the direction in which an Organizations momentum should be focused, in order to achieve a positive result, is amazing. Jack has been instrumental in Executive Level Management Liaisons between Government Agencies & Private Corporations, ensuring that communication remains the key to a successful outcome. As a former Officer in the Military, Jack has remained a team player within all ranks of the Corporate & Government arenas. Leading by Example, continues to be one of his best attributes. I look forward to future endeavors with Jack Perry.

Lazaro Roberto Gutierrez, Sr., Disaster Management Consultant/Project Management, US Department of Homeland Security-Gutierrez Management Enterprise, Inc
Jack shows incredible empathy for others and truly listens when you speak. His desire to help guide his friends and clients through the difficult changes in their lives is not just a job but an honest mission of the heart. You will not find a more committed & caring life coach, and I fully recommend him for anyone in personal or professional transition.

Jeri Kendrick, Office Manager - Southern Region, Soprema
I was touched by Jack's depth of caring for military personnel who are transitioning to civilian life. I would highly recommend Jack as a coach for anyone going through that sort of transition in their life. Once you meet Jack you have a warm, caring, amazing friend for life.

Laura Shetler, Health and Wellness Life Coach, Laura the Life Coach
Meeting and interacting with Jack Perry taught me plenty about the quality of man and the importance of his work. He speaks with compassion and is focused on improving people's lives by being a coach, friend and confidant. I'd certainly encourage you speak to with Jack Perry as his methods and his message are consistent with how I'd like to improve my life from the inside out.

Ben Moore, Marketing Manager, Rottschafer Wealth Solutions