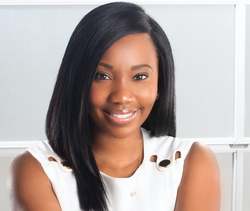 Jadonna Williams

Atlanta, Georgia
Business Coach, Entrepreneurship Coach
BS, MS, PHR
I coach aspiring entrepreneurs and help them take their vision from idea to full execution. I hold my clients accountable and provide them with the resources and support needed to be successful.
About Me
Where you see challenges, I see solutions!
I'm an Execution Strategist with a passion to see other's maximize their potential and pursue their desired business goals.
I spent 12 years working as a Human Resources Professional in Corporate America, for some of the most notable Fortune 500 companies. I earned my Bachelors in Psychology from Georgia Southern University and a Master's in Human Resources Management from Troy State University. In addition, I also completed a Professional Human Resource (PHR) certification and a comprehensive Life Coach Certification program.
Whether working with small businesses to design Human Resource strategies, optimize administration, or supporting aspiring business owners as they overcome barriers and launch successful startups, my corporate and classroom experience has provided me with the necessary skillsets to develop personalized solutions, which enable clients to see real results.
I've encouraged others to break down barriers and see beyond what they ever deemed imaginable and I can do the same for you. Take the first step in changing the trajectory of your future and schedule your consultation today!
Reviews
14 reviews (1 verified) (5.0)
I wish I had hired Jadonna Williams two years ago when the EnVision That idea first came to me. Her sessions empowered me with intense clarity that helped clear the clutter in my business and focus the way in which EnVision That will best carry out its mission: through video editing and animation. She also gave me a business module template that I will surely use for other ventures. Jadonna is a true jewel, and Im truly grateful for her coaching!

Trecie Williams
This was the BEST coaching Session EVER!! I love Jadonna's attention to detail, her listening skills and her ability to add value to your ideas and entire thought process! She is Very Professional and goes above and beyond to help you think outside the Box !!! Thank You for your guidance, input, mentorship and resources! I will Definitely be Back!

Toya
It was a pleasure doing business with Ms. Williams. I know I have the solid foundation & plan prepared for execution. I highly recommend her services. You should check her out with a free consultation where you will find out if her services are ideal for you!

Shantavious
Jadonna was amazing to work with! Her professionalism and energy on day one gave me the confidence I needed to know that I made the right decision to hire her. The thing that makes Jadonna stand out amongst other coaches is she offered great advice and ideas on ways to expand my business and earn additional streams of revenue. I appreciate her expanding my vision and also giving me a detailed execution plan to make it happen. Thank you, Jadonna!

Krysta
Jadonna Williams has a gift of uplifting you to believe in your business again. She is great at strategizing and helping you brain storm great ideas. She is always on time and communicates well. I would recommend her for either revamping your business or starting a business.

Aundrea Johnson
When I did my consultation with Jadonna, I was super overwhelmed and had been sitting on my business idea for years. I realized I needed outside help to ensure my launch. Jadonna provided just that with her CLARITY, wisdom, professionalism, and positive, genuine energy. I highly recommend Jadonna for people who tend to overthink / overcomplicate things, because she really breaks it down so you can make your dream a reality one step at a time.

Victoria A.
This was my first time hiring a Business Coach and Jadonna has made this a memorable experience. She was professional, down to earth and provided me with all the resources and information I needed in my business. She was on time and prepared for all of our sessions and on top of everything. Jadonna answered all of my questions and even provided answers before I even asked the questions, it was as if she already knew what I was thinking! If you are in the beginning stages of your business or your business is already up and running and you feel stagnant, Jadonna is the business coach for you.

Cake Queen Tanya
My experience with Jadonna was amazing! At the completion of our sessions I felt clear & confident about the direction of my vision. She worked with me to build a solid foundation for my new business by providing clear hands-on instruction & guidance that every start up entrepreneur needs. She also assisted me in developing new business goals & creating step-by-step strategies to successfully achieve them. I feel great about where my evolving business is headed & I thank Jadonna!

Jabari Crockett
If you need help with getting clear on your vision and the steps you need to take to get there Jadonna is the business coach for you! She will help you get specific and break everything down step by step.

Chouzarre Edmond
Jadonna was amazing! She was super prepared for our strategy session and gave me a lot of great insight. She helped me gain focus in my business and pointed me to the steps I needed to take to develop my business plan. She's a great listener and was very helpful in sending follow up notes from our session. I would definitely recommend her!

Anreka Gordon
Jadonna Williams has been a great help for my business. Through her coaching, things are on track and moving the right direction. I am very grateful for her help and all effort she put towards making sure my business is successful.

Dominique Boone
Working with Jadonna has been amazing for my business! During our 4-week session, she helped me bring structure, order, and clarity to my business. Within the first meeting, she helped me realize 5 additional revenue streams. She also helped me implement systems and processes to automate the administrative task, so I can focus on billable tasks. After working with her I had the foundation necessary to take on multiple clients. I highly recommend her for anyone that is an aspiring entrepreneur and unsure of where to start and how to develop their business.

Shanita Palmer, Esq.
Anonymous
Jadonna was a consummate professional! From the beginning, she provided me with timelines, resources and contacts to help bring my business from just an idea to a realized LLC. She was instrumental in all facets of developing my business plan. She tailors ideas and suggestions to reflect your personalized business and brings in her expertise from numerous years in management and the corporate world to assist you. Working with her helped me to refine and focus my business and overcome the obstacles you face as an emerging business owner.

Alexis