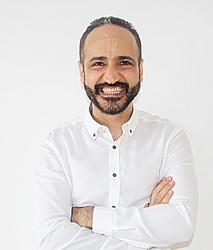 Dr Jamal Nassar

Kuala Lumpur
Entrepreneurship Coach, Business Coach, Life Coach
Author, Certified NLP Coach & Time-Line Therapy
I coach young talent/ global managers/ entrepreneurs/ Tech startups across South East Asia and virtually anywhere in the world. Focus: Leadership, 10X Business Growth & Personal Transformation.
About Me
Executive Coaching by Dr. Jamal Nassar
My Philosophy "Why, How & What"
"Why"
Help you discover your unlimited potential.
Empower you with practical growth tools (Personal & Business)
I am inspired by living mottos, altruistic leaders and my mission is to inspire.
Growing 10X and 100x is a personal decision, empowerment is key.
"How"
1. Clear solutions
2. Tested Methodology (Int.'l standards)
3. Advanced Business & Personality based Tools
(Assessments, Analysis, Strategies)
4. Applying Neuro-Linguistic Programming NLP to help entrepreneurs & working professionals attain higher levels of psychological health, release negative emotions & turn their lives around.
"What"
100% +1
I use various tools, methods and sources to compliment my practice to offer you premium coaching.
My target is to enhance your 100% outcome by +1
I operate the latest technology and employ tested psychometric analysis, behavioral science and international coaching best practices.
Packages to choose from:
1. Leadership Coaching - 6 Months
2. Life Coaching (Personal) - 3 - 6 - 12 Months
3. Entrepreneurs & Startup Business Coaching (Startup)
4. Creating Cultures of Performance (Corporate)
I contribute to my client's overall wellbeing and personal growth while giving and contributing to our communities when possible. I am a life learner and I seek to continuously develop, improve myself and my practice which will result in a profound impact on my client's projects, their wellbeing, and their livelihood.
Dr. Jamal Nassar
Reviews
8 reviews (1 verified) (4.88)
Caleb
I had a wonderful experience with Dr Jamal. Their were several 'aha" moments. Dr Jamal was able to inspire me through the journey and cleared several doubts and give direction to my thoughts. He is top class human being as well

rajeev aggarwal
Jamal is an excellent trainer with extensive knowledge in his areas and a great communicator. It was really an eye opener for me to have a session with him about how the things are in Malaysia. Also the openness and transparency he brings in with himself is quite amazing.

Mohit Sharma
Jamal supported us through entrepreneurial coaching of our early stage technology startup. He provided advice ranging from raising capital to execution strategy, going above and beyond what we were expecting. We are eternally grateful for his diligent support and input, and are now on the right track to move forward thanks to him!

Nils
Overall it was nice working with Jamal and he is a very matured person with good insights into the leadership skills to navigate.

Mahantesh H
Dr Jamal's NLP technique pulled out a major root of YEARS of my anxiety in just one session, which worked so much better than tackling the symptoms, and it's not something I could have done myself! Now I feel much freer and lighter compared to previously. Thank you Dr Jamal and I hope to see you again.

Gloson Teh
Jamal helped me learn how to enhance my potential and be recognized by executive management for the value I bring to the company.

Yayan Hartati
Jamal is one of my favorite coaches I had so far because I feel like I am making quick progress. He has an infectious energy and a lot of tools in his backpack. I am working on my self-worth in the career field. His models/matrices (e.g. Passion Activity Matrix) have helped me see my strengths and I am getting closer and closer to connect the dots of what I am meant to do on this planet :) and how to work with my weaknesses. Thank you Jamal!

Eli