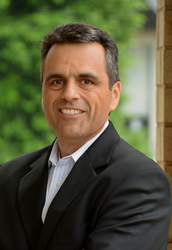 James Pagano

Charlotte, North Carolina
Business Coach, Executive Coach, Performance Coach
Certified Executive Coach, Certified Behavioral Consultant
You roll up your sleeves, push hard, and pour your heart into it every day. Yet sometimes…the results just don't seem to align with the level of effort you're putting in. Ready for a change?
About Me
As a business performance coach my goal is to help my clients achieve their goals…AND accelerate their success!

My clients appreciate my approach and level of commitment. Some have described my style as firm and on-point, yet empathetic and guiding.

The bottom line is I enjoy working with business owners and company leaders who roll up their sleeves, push hard, and pour their heart into it every day.

When results and fulfillment just don't seem to be aligning with the amount of effort my clients are putting in, we go to work together.

Collaboratively, we dig into a powerful continuous improvement process that is designed to help busy entrepreneurs navigate toward clarity and capacity to focus on what is most critical, relevant and rewarding to them.

The most valuable takeaway…desired results prove achievable, significant, and perhaps most important, sustainable.
Process and Results
I work with business clients through a practical and proven strategic coaching process. Together, we examine and then go to work on three core areas of business: 1) optimizing results, 2) maximizing time, and 3) refining key relationships.
Client Profiles:
- Business owners (typically 1 to 25 employees)
- Company leaders and key contributors (typically 0 to 10 direct reports)
- Professionals recently promoted to a new leadership position (typically up to 1 year in new role)
Areas of Focus:
- Strategic Clarity, Planning, and Execution
- Time Management and Prioritization
- Sales, Marketing and Business Development
- Team Engagement and Alignment
- Communication, Negotiation and Influence
- Overall Professional Fulfillment and Satisfaction
Reviews
5 reviews (5.0)
My experience doing business coaching with James has been fantastic. I have been working with him for over two and a half years, and I believe he has been integral to furthering my business success. It has been great to have James tailor his approach as my business continues to grow and change. The accountability, goal setting and mentoring he brings to the table is invaluable, especially for the small business owner where there is no one else at the top to work with on these aspects.

Lauren
Year in and year out working with James has helped my business grow while also keeping work in balance with the rest of my life. The time and money is well spent & I enthusiastically recommend him to anyone looking to enhance their business.

Rebecca Richardson
Always personalized and on point - another fantastic group session!!

Flint
James as a business coach brings accountability and exuberance to my small business planning! Who knew business planning could be fun?! He helps me through big and small challenges of being a small business owner. When I feel like I am about to stumble, I know James will listen intently and help me stay steady. I love my business more and more each day because of James' coaching!

Tonya S.
We've had the luxury of working with James for the past few years. His experience and insight have been instrumental in the growth of our company from nothing to a successful contracting company. He is the Growth Coach for good reason!

Avery Ekren