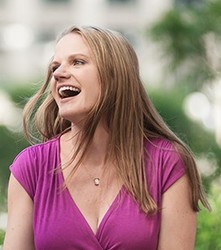 Jamie Martin

Elmhurst, Illinois
Life Coach, Leadership Coach, Executive Coach
Are you a woman that has been going so long that you lost yourself along the way? Are you done settling for less than you deserve? Working together, we will reignite your brilliance and your life!
About Me
Jamie Martin is a Life and Leadership Coach who helps women who have been going and going and going for so long that they feel like they've lost themselves. Working with Jamie, her clients give themselves permission to shake things up by putting themselves first for a change and going after THEIR dreams.
She spent 17 years in technology at companies like DoubleClick and Google running product management and implementation management teams. Being a Product Manager, she has always used curiosity to uncover her clients hidden needs. She's learned that often what we say we want is a workaround for the situation we are currently facing and not the desired outcome. She's incorporated this concept into her work with clients to allow them to go deeper in order to expand and grow beyond their current perceptions of life.
During her technology career, she established herself as a leader where she worked.
She grew her leadership skills as a servant leader and coach to her team. As she continued to grow her leadership style, she realized that what she loved most was guiding her team as a coach to them. This led her to go after her passion for coaching and start her own business.
The years she spent in technology combined with intensive coach certification gives Jamie a unique perspective into what it takes to make a significant transformation for her clients. She continues to have a strong sense of curiosity that allows her to explore new avenues with her clients and uncover areas hidden to them. Her clients consistently say that Jamie is able to cut through the noise and deliver immediate aha moments that result in a new passion for work and life.
Jamie is also writing her first book on infertility and is an amateur photographer with 1,000s of pictures from her trips around the world.
She knows that what we express first is just the surface level of our desires and needs and that we need to go deeper to allow ourselves to expand and grow.
Reviews
Where do I start with writing my testimonial for Jamie! She's been a huge part of my personal transformation journey. We started as coaching classmates, later on Jamie was my peer coach and for a period of 6 months I hired Jamie as my life coach. My life transformed working with Jamie in the following areas and more: - Self Love - Gratitude for my work - My relationship to relationships - Healthy boundaries - Well being - Learning to let go (this one is so hard) As a coach, Jamie digs deeper than the surface level by asking powerful questions that make you think. Her brilliance and passion shines through in her coaching. Jamie's super power is spot coaching and doing it now. I'll give specific examples of both. Spot coaching. I'm your personal transformation journey you will have many a hard times feeling stuck and in fear. You are doing things outside your comfort zone to get the life you truly want! Jamie has the ability to hold you in those ups and downs and help you navigate to the other side so you can experience the benefits of your commitment to a better life. Doing it now. On one of our calls, I told Jamie that I wanted to start my own Facebook group as a life coach and support people in the pandemic. I was stopped in fear. Jamie coached me in that session to 'do it now'. That's how my Facebook group got created and there's no looking back. I have built a community of 200+ people and hosted many events in the past year that have been a positive spot in people's lives in the pandemic. Thanks Jamie! Furthermore, Jamie is a thorough professional and an ethics based coach. She'll refer you out to other professionals as needed for your well being. And paperwork and scheduling with Jamie was a breeze. If you are committed to live a life you truly desire, Jamie is your coach! I highly recommend her! Results may include more joy, ease, trust, surrender and heartfelt gratitude for this life journey

Sanika