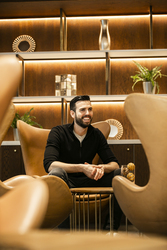 Jamie White

Dublin, Dublin
Business Coach, Career Coach, Life Coach
In my career to date I've built and sold multiple multi million euro / dollar businesses.
I work with visionary entrepreneurs who are out to change the world for the better. They are resourceful and ambitious — yet they too need support, guidance and accountability.
About Me
I've been where you are, I know the feeling.
I've been an entrepreneur for over half my life, and I've experienced all the ups and downs of being responsible for a business.
I realise now that my journey could've been much easier if I'd worked with a good business coach much earlier. It's very much why I do what I do now. I wanted to become the person I wished I had when I needed them most.
At a really young age, I had a business that became too big, too soon, and the vital details started falling through the cracks.
I see now that my coaching clients are smarter than I was. Because they know when it's time to seek outside help. I was a fool. I kept pushing through.
I learned—the hard way—that working harder only works for so long. One day, the littlest challenge comes along, throws you off course, and just like that, your entire vision, passion, and motivation have crashed spectacularly into the land of burnout.
I got really sick. I had to end the business. I was young, but I was broken. It took me years to get my life back.
Years I don't regret now though as it was this time that I learned to really care for myself and bring my life much more into balance.
I hit the restart button and I started a journey of learning. I interviewed hundreds of entrepreneurs, people who'd made it, to figure out how they do what they do. I learned, and I learned, and I learned. I've continued this process through my podcast The University of Life.
One of the biggest lessons I learned is that entrepreneurship should never be a lonely road for one. We all need a supportive hand, guiding us along the path.
And that's what I'm here to do for you. To be there for you, totally focused on your success and achievement through whatever may be in your way on this otherwise deserted road. Your guide when you can't see the way ahead.
You have a gift the world needs. Let's unleash it.
Reviews
5 reviews (5.0)
Bringing someone like Jamie on, with his experience, was absolutely crucial. He really had a massive impact on my business, it gave immense clarity and direction. If you're considering getting a coach at this point, I cannot recommend Jamie enough.

Joe Moore
This month has been one of my biggest months for income, and that's still having my family time, my self-care, and still having those boundaries up with my clients, but serving them at the highest level possible. The only word I can use for it is transformational.

Sharon Ledwith
Jamie helped me understand what I really wanted. It was a really holistic approach. I feel so excited about my business and where I'm going in my life, and I don't feel overwhelmed. I know the steps I need to take to get there, I feel confident and ready to do it.

Victoria Evans
I think I've had a huge problem with not having enough, Jamie helped me navigate through all the ideas I had in my head. In one month I was able to triple what I made at the yoga studio, I was in awe… I was shocked. I couldn't even believe it.

Chynna Dee Andrada
Jamie is the reason why my business has been able to expand and why I've been able to hone in my processes and really become more confident as an entrepreneur and coach. Jamie is able to cultivate this environment for you to be able to deep dive into this and translate it into your business.

Nicole Szoko
The Smart Way To Find A Coach

1 Describe Your Goals

2 Get Matched

3 Free Consultations
Find My Ideal Coach Now