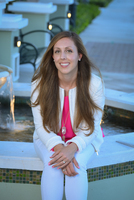 Jana Hedges

Lexington, Kentucky
Entrepreneurship Coach, Business Coach, Career Coach
Certified Strategic Intervention Life Coach
I help female entrepreneurs grow their business so they can leave their 9-5 and start living life on their own terms!
About Me
MY IDEAL CLIENT:
My ideal client is ready to make a move! They are ready to change!
MY PERSONAL APPROACH:
We work on mindset first: Uncovering the layers of meaning behind your thoughts, words, and actions so we can understand what has you stuck and develop a game plan to move you in the right direction!
Then we work on strategy: We create a strategy and actionable steps. I hold you accountable. We test and measure your success, tweaking as we need to. Large goals are broken down into small wins to avoid overwhelm and fatigue and build momentum and confidence!
OUTCOMES & BENEFITS:
My clients say their confidence increases tremendously. They choose who, what , and where they spend their time. They achieve financial freedom. They do what they love and what they are good at. They are fulfilled. They enjoy better relationships, finances, and are generally happier because they are living life on their own terms.
MY BACKGROUND & TRAINING
-Coach, Speaker, Author
-MBA Specialization in Marketing
-Former marketing corporate experience
-Marketing Consultant to entrepreneurs
-Robbins-Madanes Strategic Intervention Coach Training
Reviews
4 reviews (5.0)
"I recently attended a seminar and an individual session with Confidence Coach, Jana Shaw. In the class we discussed how to create the life you want. Discussed were common pitfalls, the reasons behind them and how to avoid or counteract them. During the individual session we worked on constructing a road map to get where I want my life to be. Ms. Shaw was very helpful in prompting me to think about my beliefs, solutions and options. She suggested resources to check out and gave me homework to do. I left with hope and a sense of joy possible for the future. I would definitely recommend Jana Shaw for anyone who feels an area of their life could use a minor or major tune up."

Connie, Environmental Sciences Professional, Michigan
"Meeting Jana was phenomenal! I never in my life have had a session where I felt so understood. I had a fear of giving consultations because I tended to over think things and "get in my own way". Jana was right on point in describing how hard I was on myself. After using Jana's suggestions, I began to feel so much better and have since had many success stories and amazing experiences--Especially once I decided to get out of my own way! Thank you Jana you're a godsend!"

Jordan, Spiritual Healer, Michigan
"Jana continues to amaze me as she works toward her goals of living a balanced, fulfilled life and helping others do the same. In a world where staying safe (or stagnant) in your career and conforming to social standards is held in higher regard than happiness, Jana has the confidence to stay true to her core values and change her path in order to continue living authentically. Jana is uniquely courageous and warm-hearted, and I feel extremely lucky to look up to her as a role model throughout my life. Now you have the opportunity to learn about the strategies she uses to cope with life stressors and stay motivated to continue reaching your dreams!"

Donya, Clinical Psychologist, Detroit MI
"Jana has been a breath of fresh air to our business. She has brought a new perspective on how to leverage social media to let people hear our voice and the voice of those we support. Finding a person that has a passion to see your business grow just as much as you, is a blessing. Thank you Jana for all your support and encouragement."

Elaine, Entrepreneur, Phoenix Arizona