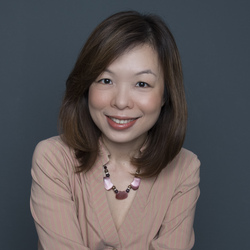 Business Coach, Entrepreneurship Coach, Career Coach
Certified in Conversational Intelligence® Coaching, MSc in I-O Psychology
Business owners, cofounders and leaders in their 30s-40s who are ready for actions and changes. With me, they will develop confidence, focus, and clarity towards their next steps in life and at work
About Me
I bring forth experiences in leadership, business management and applied psychology to my work as a coach, helping my clients identify their aspirations and vision, strengths, and blindspots, and develop a plan that moves them toward their goals.
As my client, I care deeply about your well being and success. My mission is to help you achieve clarity of mind, find the answers forward so that you achieve the results you want.
I am known to my client for my ability to
• Ask honest questions, inviting them to discuss difficult topics in a safe environment. There is healing in truth. Being able to acknowledge where we are is an important first step towards change.
• Offering on-point observations and alternative perspectives. Visioning, role play and narrative-building are some elements I inject into the process. Coaching is a partnership - together we overcome fears, doubts and saboteurs; and build strategies towards the goal. You can expect me to be someone you can be open with and be challenged by.
• "Energy", "Gravitas", "Groundedness", "Straight talking", "Safe", "Able to put things into perspective and move things towards the right direction"....these are some of the feedback from people on how they experience me.
If you are ready to make a change and are committed to taking actions, you will definitely experience a shift forward at the end of our coaching journey.
Take the first step towards your transformation- contact me for a free consultation and discuss the possibilities.
================
Specialisations:
• Mission, Vision & Values
• Sales and Business Coaching
• Self Leadership & Management
• Personal Effectiveness and Performance
Client Experience:
• International Client Base
• Founders and C-level Executive
• Leaders in Multinational Companies
• Women in Leadership
I am a English and Mandarin speaker and I coach in both languages.
Reviews
2 reviews (5.0)
Before I decided to work with Janet as my coach, I was in a rough patch in my career. In an entirely new work location and in a senior leadership role, I was uncertain, insecure, and was lost on what I was striving to work for. Which led me to my first coaching experience ever. Janet had exceeded my expectations of what a coach can be and do. Her program is well structured, but her sessions provided a great deal of conversations that led to self discovery. Janet always was open and honest. Never brutal, but the honesty one needs from a coach in order to think differently and be better. Over a month later, I am clear on what will go in my plan for what's next for me in my life and career, while also expectant that life always has hurdles that may come my way. Thank you Janet for this amazing journey.

Elisa, Regional Group Account Director, New York
Before I started working with Janet, I had assumed that I knew my career goals and how to achieve them. Fortunately for me, Janet was able to guide me and provide me with a clearer path on how to exactly discover my path towards success. Through her coaching, I was able to lay down my priorities, not only in my career but in my personal life, in the process discovering my source of motivation, and also successful converting any weaknesses into strengths. I have established how monetary concerns drive me, especially my focus in ensuring that as a sole breadwinner, I am able to provide for my family without compromising on my relation with my family including my wife and mum. With Janet's guidance, I will channel my resources towards achieving my goals in an effective manner.

Kenneth Tan, General Manager, Singapore