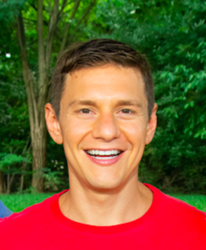 Jeff Siegel

Somerville, Massachusetts
Health and Fitness Coach, Performance Coach, Life Coach
BS, MA, M.Ed. Mind & Brain Education, Harvard University, Master in Buddhist Studies, Dynamic Eating Psychologist, Koru Mindfulness Instructor
I coach stressed-out busy people who have let unhealthy habits take a toll on their relationships, productivity, health, and happiness. My approach teaches you smart, sustainable self-care that lasts.
About Me
If you are dissatisfied with how your body looks and feels, looking to upgrade how you take care of yourself, or simply want to overcome chronic health challenges once and for all, I empower you to take back your health.
My coaching takes a holistic perspective of what impacting your wellbeing. I go broad and deep into your issues moving beyond one-size-fits-all solutions. I'm about sustainable, pragmatic actions and accountability. My framework combines the science of behavior change with mindfulness approaches and practical fitness knowledge.
You don't need to be stuck in a health rut dealing with stress, poor sleep, crappy nutrition, inadequate exercise, eating challenges, chronic ailments, or body image issues. Together we will craft a personalized wellness solution that builds your foundation of health.
My unique background combines many disciplines from neuroscience to adult development to exercise kinesiology to eating psychology. I have coaching training from the WellCoaches Institute and a degree from the Institute for the Psychology of Eating. I also have years of experience as a personal trainer, group exercise instructor, and mindfulness teacher.
Reviews
3 reviews (5.0)
We hired Jeff Siegel three years ago as a coach for our son Jim, an adult with moderate special needs. Jeff is a truly remarkable coach whose focus is not only on physical health but more centrally on uplifting every aspect of his client's whole being. Initially, we hoped to simply help our son get into better physical condition. Jeff started by working with him to go to the gym regularly, to lose weight, and to establish better living habits. This has been an incredible success! Jim lost 20 pounds, ran a 5K race and began making exercise a priority in his life. Once establishing a solid foundation, Jeff has moved into helping Jim with other life skills areas, including teaching him how to make healthier food choices, how to keep and stick to a calendar, and how to be more accountable for his own life responsibilities. The addition of this facet of guidance has been incredibly productive. Jim also has several complicated medical conditions that require care and monitoring. Jeff has taken these facts about Jim into careful consideration and designed a program that suits him exactly. Of course making lifestyle changes is difficult, and certainly more so for a person with special needs. One of the things that is extraordinary about Jeff is that he never gives up! If one technique doesn't work, Jeff has several more ideas to try. As a result, our son has learned how to deal with issues that might have defeated him in the past. We simply cannot speak highly enough about Jeff's coaching services. He is responsible, empathic, creative, level-headed, and a warm and sensitive human being. We view him as something of a miracle worker for our family!

Lynne and Dick Boardman
Jeff is a caring professional and knowledgeable coach. He has great intuition and is able to get to know his clients and assist with diet, exercise, as well as helping you understand it all in the context of mind-body interaction. Before working with Jeff, I was doing a poor job of taking care of myself and had let bad habits undermine my health. Jeff's extensive knowledge of fitness coupled with his warm and attentive presence makes every session really enjoyable. He's very intuitive to how the body works and helped me work with an old injury and establish better routines for daily self-care. Overall, Jeff is a wonderfully kind and competent coach who will challenge you to meet your goals and live at your best.

Charlie Cohavey
Before working with Jeff, I had a body that didn't move well and a mindset that didn't allow me to truly see how I could change my habits. I told myself I was relatively fit and doing fine, but in reality, I couldn't do a push-up, I would get out of breath going up a flight of stairs, and I got hurt often when exercising. I wasn't honest with myself about my eating habits. In the process of working with Jeff, I began to undo these bad habits. Jeff, without judgment and with encouragement, helped me to see where I was limited and where I was strong. With his coaching, I've learned to take of myself. I've learned to listen to my body and use that insight to change my behavior. I've become a more intuitive mover, with all-over strength and mobility. I've learned to be realistic about my eating plans. I've quit smoking, I've brought several new postures into my decade-old yoga practice, I've become a mindful mover and enjoy working out. I have felt ease in my body -- a foreign feeling to me for most of my life. I'm excited to keep working with Jeff. We've blown through initial goals that I set, and working with him has helped me actually achieve and set new goals that once felt like impossible pipe dreams. As someone who is driven by data, Jeff figured out a way to ensure that we used numerical measures strategically. We tracked my performance improvements in a myriad of ways -- without letting the numbers dictate how he coached me. While the numbers are motivating, Jeff's fundamental approach as a trainer is to think holistically and adaptively. He didn't let numbers define my idea of success -- rather, we focused on movement and how I felt while moving. I've been working with Jeff for three years now, and the numbers speak for themselves. I've lost 50 lbs and slimmed down 7 pant sizes and two shirt sizes -- and with that change also reduced overall body fat by 12% and increased muscle by 7%. I went from running a mile in 10:30 at my absolute fastest to 7:00. My power-lifting numbers have all increased dramatically, and my mobility is better than it has ever been. Overall, my work with Jeff has made it possible for me to enjoy living and being in my body. He's helped me embody my vision and goals.

Soltan Bryce