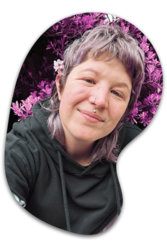 Jen Dayton

Seattle, Washington
Life Coach, Health and Fitness Coach, ADD ADHD Coach
I help people pleasers + perfectionists live more authentically through somatic integration.
About Me
Hi, I'm Jen (they/she) -- nice to meet you! I'm a neurodivergent, queer, non-binary womxn who loves to travel and spend time in nature. I became a life coach because I profoundly care that sensitive humans like me feel safe enough in their bodies + minds to let their light shine!
Do you bend over backwards to keep the peace and make others happy? Do you mask parts of yourself, put on identities, and hustle for perfection in order to earn approval? Do you feel selfish or guilty for taking time for yourself? Are you regularly stressed or burnt out? Do you feel trapped in an unfulfilling life?
Early on in life, you got the message that your feelings + needs weren't valid or important. So you learned to protect yourself by subduing your feelings, peacekeeping, and trying to win people over. It may have kept you safe then; but you're an adult now. There is no longer any need to make yourself small. Though it may not always feel like it, you now have the freedom + the power to live life according to YOUR rules!
I want to help you tune into your deepest truth, build confidence + trust in yourself, live more authentically, and experience more ease + joy in your life. In our sessions, you'll learn how to feel safe + resourced in your body, dismantle the shaming narratives that have been blinding you to your inner wisdom, and take realistic + sustainable steps toward a more fulfilling life.
My clients are always telling me how revolutionary it is to *truly* believe in + embody their inherent worthiness. They've also found it incredibly valuable to have an unconditionally supportive person to guide them through the challenges + barriers that inevitably come with great change.
In addition to my personal growth journey, I draw on my 7+ years of experience as a bodyworker and 2+ years coaching. I'm a huge nervous system nerd! So, whether with touch or words, I am always refining my skills + expertise as a facilitator of healing. It's my honor + joy!
Reviews
Jen doesn't have any reviews yet.