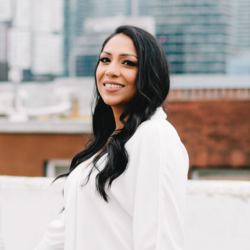 Jen Rose Narayan

Toronto, Ontario
Career Coach, Leadership Coach, Business Coach
Certified Human Resources Leader (CHRL), Certified Life + Spiritual Coach
Are you stuck in a career rut or feeling unfulfilled? I guide ambitious professionals and soulpreneurs to embrace their superpowers and align to a purpose driven career.
About Me
Hi, I'm Jen Rose Narayan, Career + Purpose Coach, here to guide you through the process of discovering your superpowers and to build a career that is aligned to your purpose.
Whether you are working in a corporation or transitioning to become a soulpreneur, my goal for you will be the same - to reconnect you back with your innate gifts in order to create a life and business based on the foundation of your purpose.
In the past decade, I have moved toward helping people get unstuck in their careers and find their dream job, however what really clicked for me was when I realized I could bridge one's purpose to their career.
Born to immigrant parents who had jobs to solely make ends meet, paving the way for their family's future, I've realized a career didn't just have to be a survival mechanism. Instead, a career could also be fulfilling, bring joy to your life, and have a positive impact to others - aligned to one's purpose!
After spending 10+ years working in Human Resources, I knew I was on the path to a purpose driven career. I did experience many detours and redirections along the way, even getting fired. As I delved into unlocking my purpose, I went down several rabbit holes until it finally hit me!
So what did I discover my purpose to be? It is to help you unlock yours, to find a fulfilling career aligned to your superpowers, embody your highest self and to live a life purposefully.
Career + Purpose Coaching could be for you if you are:
*Feeling unfulfilled or stuck in your career or life
*Unaware of your superpowers and innate gifts
*Needing assistance reframing your experience to apply it to a purpose driven career
*Looking to rebrand your resume and Linkedin profiles so they align to your future role
*Seeking interview strategies to speak authentically without feeling like an imposter
*Long overdue for a promotion
*Desiring to become a soulpreneur
*Ready for a purpose driven career!
With gratitude,
Jen Rose
https://www.linkedin.com/in/jnarayan/
Reviews
37 reviews (1 verified) (5.0)
Positive

Nadia
Jen is a true career savant. She is highly skilled in her field, able to jump into the deep end of an individual's professional spectrum and build out a usable, visually stunning platform for job searching. I have been looking for a new role for months with very little traction. I was at my wit's end, when I learned that Jen was a skilled resume writer. She was able to take my broken resume and build it into a work of art in a matter of hours. I have been getting 10-20 inquiries from employers a week since I started using my new resume. I highly recommend utilizing Jen's resume writing acumen if you are having trouble getting noticed. You won't be disappointed!

B.P, Program Manager
When I graduated fresh from my graduate school program, with so many things happening simultaneously in my life, I needed direction. However, with numerous challenges in my career, personal life, my understanding of the market and in my professional networking efforts hitting me, I felt that seeking direction from one person to learn what to do next with my life was too utopian and just wishful thinking. Half a year later, embarking on my best job ever and journeying down a fruitful adventurous career path, I am happy to say that I was wrong in thinking that one person couldn't set my life straight. I did face a guide like no other. That person is Jen Narayan. She is extremely organized in her understanding of the human as a resource to an organization. Secondly, she knows what organizations need from successful job candidates. She understands what goes on in the mind and heart of the active job seeker and directs that immense energy into focused career planning. She starts with the résumé. In less than half an hour, Jen was able to capture my essence, ambitions and most importantly, my value proposition to society and the market with a direct, clear and fun résumé. Later, she showed me how to conceptualize and understand interviews from a design and performance perspective. From there, I knew what I could add and bring to any organization,and companies saw that in me as well. More than just confidence, Jen gave me clarity. Jen Narayan's service has been the greatest professional investment I have ever made.

R. F - Senior Financial Analyst
Jen is a fantastic career coach! She is very patient and flexible to her clients schedule and needs. Due to her vast career in the HR field, Jen was able to provide me with the guidance I needed to ace a variety of interviews. Thanks Jen for helping me land my dream job!

C.B. - HR Coordinator, Toronto
It's rare that you come across talent like Jen. I've had the pleasure of knowing Jen while I was searching for another career opportunity at my previous job. Above all, I was impressed with Jen's ability to seamlessly modify my resume to fit the requirements of a variety of job opportunities. Jen made the transition from one job to the next effortless and without worry or stress.

P.R. - Software Engineer, Toronto
I really want to say THANK YOU again for today. I'm already feeling much better and looking forward to doing what I need to do to be successful. I haven't felt this confident/excited about my career in SO long. Your energy is amazing and has definitely helped me to believe in myself.

S. H - Digital Marketing Specialist, Toronto
While working as a career adviser, Jen not only showed her professional skills and efficiency, but also delivered impressive passion to her client. A client like me, with English as a second language, I can only tell my story straightforwardly with simple words, but Jen could always help find the proper words to restate the story and make it more professional and attractive, and deliver positive attitude meanwhile. Those were very important to me and very helpful. I would definitely recommend Jen to anyone who is looking for career coaching as myself. Thank you Jen! Wish you all the best!

N.W. - Data Processor
Thank you so much for all of your feedback! I will be sure to make the Linkedin changes. You're excellent at what you do, and I've really appreciated your help and advice. I'm definitely feeling much more confident about what I should be aiming for and what I have to offer! I'll keep you posted on my job search :-) Thanks again

Michelle, Designer
It was very confidence inspiring to meet you to talk about my opportunity!! I left feeling pretty good that I made the right decision to get a coach for my career moving forward. Thank you for the updated resume, to be honest I don't think I've ever looked better on paper since my birth certificate!!

Paul O, Manager at a High End Car Dealership
I finally got a job!!! It is a digital graphic designer position downtown. Thank you so much for helping me a lot, my interviews went well and they hired me :-)

C.M, Graphic Designer, Toronto
Jen mentored me in my professional development, giving me great insight and prudent advice on my personal and career growth. There was a time when I really needed advice and direction entering the competitive environment and Jen was there to assist me. It was a pleasure to learn from Jen and her wealth of knowledge and friendly nature.

Tian Zhao - Recruitment Assistant, TapMango
I was very fortunate to work with Jen in my career search. Jen gave very sound and actionable advice that made me confident in my job search. She offered valuable insight into what recruiters and HR managers looked for in candidates and knowing what to expect made my interviews less intimidating. She helped me build a presentable resume and an appealing LinkedIn profile. She worked with me through every step in the application and interview process and addressed my concerns and questions tactfully. Jen was so patient and perceptive that she made my job search informative and enjoyable. I come out of our sessions learning more about myself. I would highly recommend Jen to anyone looking for career advice!

Ella Lew - Account Manager, Uber Eats
Jen was incredible to work with. She assisted me with my career transition and gave great insight and tips. She has a vast amount of knowledge in the HR industry and it was an absolute pleasure working with her.

Melissa Luis, Talent Acquisition
Jen and I worked together for ~3yrs and her workload was quite large. She was required to juggle multiple demands within tight deadlines and from my perspective as a client, she executed on these responsibilities extremely well. I found her to be committed to her client groups, on top of details and very well organized. She is open, a team player and anticipated my needs to ensure that my staffing activities were fluid and seamless. As such, I would welcome the opportunity to work with Jen again in the future.

Senior VP, HR
I have had the pleasure of working with Jen Narayan at Home Depot Canada Inc. She is detail oriented, efficient and very personable. Her credentials and leadership skills would be an invaluable asset to any team.

Bisham Beekha - Project Manager
Jen was our HR representative for advertising. She was always very helpful, honest, efficient and a joy to work with. She always had a positive disposition, with a can do attitude. I wouldn't hesitate to recommend her, and would love the opportunity to work with her again.

Kiki Wainwright - Project Manager
Jen was an excellent communicator, has strong management skills, very hard working and committed colleague to any project she undertakes. She was very engaged HR business partner and always willing to offer the assistance when required. Jen had an excellent rapport with the key business partners and demonstrated her excellence for key business objective delivery. She played an effective role during her involvement in the social committee by showing active participation in the key home depot events.

Tahir Razzak - Supply Chain Consultant
Jen is an astute HR professional who always displays a lot of commitment and enthusiasm to any task or project that she undertakes. She has great inter-personal skills that she utilizes when effectively managing and resolving employee concerns. Her ability to break down problems and find workable solutions ensured that she was a respected HR manager within the organisation. As a HR professional she understands and advocates the value of teams and works to build employee relationships. Jen also participates and contributes to organising corporate social responsibility initiatives but also encourages employees to participate and engage themselves. In addition to her skills, I also found her quite knowledgeable about all HR related matters including hiring policies, training, compensation and resolving employee concerns.

Amod Phatarpekar - Financial Services Professional
I had the pleasure to work with Jen at Home Depot and my onboarding experience was one of the best I had so far because of her. She is a hardworking and reliable person, always open for discussions and would be a great asset for any organization.

Hristina Broulekova - Strategic Procurement Manager
As and Employee Benefit and Pension consultant, a key to a smooth and successful partnership with our clients is a knowledgable HR department. Jen's knowledge, analytical skills and ability to pick up on industry changes complements her energetic and ambitious personality. It was a pleasure to work with Jen, one day I hope our paths will cross again.

Paul Kalata - President, Kalata Insurance Services
Jen has been a wonderful person to work with... as a HR manager she is very efficient in delivering the perfect combination of strategy and people management and was able to adapt easily to a fast paced informal org. structure. And as a person she is very dependable and warm.

Dominic Savio - Business Manager, Customer Experience
Jennifer is a dedicated worker who takes pride in her work and always meets critical deadlines. We could not have built a Supply Chain team in such a short time without her continual assistance and unwavering enthusiasm.

Dan Platonov - Supply Chain Executive
Jen has skill of speed and accuracy. HR related issues referred to Jen were addressed with efficiency. Jen has displayed a non biased characteristic and very polite in dealings. I wish Jen all the best!!!

Parag Ogiral - Branch Manager
Jen is extremely focused, hardworking and good natured person. Excellent knowledge and good interpersonal skills are hallmark of her personality. She never shies away from responsibilities and helps colleagues, juniors and seniors alike.....In nutshell ''Wonderful Colleague'" !

Umesh Raheja - Director, Finance
Proactive and enthusiastic, Jen was always very helpful and demonstrated excellent customer service to her client groups. Her thirst for knowledge allowed her to embrace new challenges and round out her experiences as an HR professional.

Lana Chaim - AVP, Total Rewards
Jen has been a great person and colleague to work with. Jen had performed the HR functions efficiently and responded on my HR queries in time. I feel that Jen goes extra mile in understanding the HR related concerns. She is very friendly and cooperative.

Mukesh Vijay - Senior Manager, Risk Advisory
Jen was a great partner working with me to source, interview and hire a Finance Manager for a very unique position within Home Depot. She is very professional and is comfortable pushing back if she does not agree. I look forward to working with her again!

Bob Atkinson - President, MPOWER Energy Solutions
I had the privilege of having Jenn on my team; she has a great attitude and a strong work ethic. She works effectively in a team and is adaptable to work independently. Jenn's strong core competencies allows her the flexibility to be successful in diverse situations. Her attention to detail, maturity, and strong sense of accountability & responsibility makes a valuable member of any team.

David Mah - Head of Technology, Business Operations
Britton Management Profiles conducted reference check services for Home Depot and dealt extensively with Jen during this process. We found Jen to be professional and a pleasure to work with. She is very good at what she does and we would highly recommend her.

Marty Britton - President/CEO, Marty Britton
I worked with Jen while at ICICI Bank Canada and found that she demonstrates Superior Leadership skills and balances her role very well while being extremely compassionate towards employee needs. She interacts compassionately and professionally with individuals at all levels of an organization - from entry-level staff to senior management. Jen is an ideal human being for any human resources department.

Aseem Sharma - Director, Business Development
It's absolute a pleasure to make recommendations on Jen! She is passionate about her work, focused on what's important and follows through on execution. Jen impressed me with her great support on providing external candidates with the right opportunities and was a great partner to work with. She is always willing to help and acts professionally.

Qian Lu - Business Process Consultant
Jen is a very talented & hard working professional. She has a very sharp eye & very detail oriented. Good Interpersonal skills, team player, & leader in the group.

Suryakala Nair - Certified Treasury Professional
Jen has done an excellent job in our role in HR at Home Depot. She was instrumental in the coordination of my hiring process and worked closely with a third party recruiting company to ensure the process was carried out effectively. Jen has also helped out manay members of the company through her organized orientation sessions. These sessions are critical to all new hires and has greatly helped myself and others in understanding the company and knowing what resources we have available to us.

Anthony Dias - Finance Manager
It was a pleasure to work with Jen as my HR business partner and I welcome the opportunity to work with her in the future. She is one of those individuals that always has things covered; without having to follow-up! On many occasions, Jen delivered not only by sourcing qualified candidates but also supporting us from inception of the recruiting process, interviewing, hiring, and even training. Jen has a team-oriented approach and stays involved with initiatives long after implementation.

Chris Rinella, Project Manager
Jen is a detail-oriented Staffing Associate who is also a hard worker. She is very good at keeping details and helping her clients to achieve their goals.

Tony Soul Ojo-Ade - Entrepreneur/Actor
Just wanted to say a big thank you Jen, for assisting me in obtaining the temporary position. I hope that we can work together in the near future. Your help was really appreciated.

Mardene Pemberton, Administration
I had the privilege of working with Jen at ICICI BANK CANADA. Her knowledge in Human Resources Management and using the same to deliver value to team members was outstanding. She was always there to listen and provide the right solution.

Sundar Ramanathan - Managing Director, Product Portfolio Management