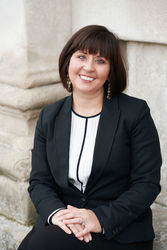 Jennifer Paster Detmer

West Chester, Pennsylvania
Leadership Coach, Executive Coach, Career Coach
BS, MBA, Certified Professional Co-active Coach (CPCC), Certified Trumotivate Facilitator
Successful, high-achieving, stressed. My clients have a hard-earned title, a comfortable lifestyle, and crave change while fearing the impact. I help them embrace what they want without trade-offs.
About Me
Too many of us sacrifice happiness, health, talents or passions in search of a narrow definition of success, but it doesn't have to be this way. I will help you find the answers that lie within you and access your confident inner leader to take your vision forward.
WHO AM I?
Hi, I'm Jenn, an American recently returned from living abroad in London who decided to climb a tree instead of a ladder. I've navigated a career that has taken me to the executive level at a Fortune 500 company, through motherhood, and into entrepreneurship with lots of plot twists. I have led global teams that pushed the boundaries of how we worked, been the only woman at the negotiation table, and created global best practices that resulted in a product launch plan that hit over $1 billion in sales in one season.
Along the way I've learnt that 'fancy a cuppa?' is British-speak for 'I need to talk' and negotiating multi-million deals can be less mind-bending than negotiating bedtime with two toddlers. I love my career, but I am also a mother, wife, writer, painter, runner, and adventurer who loves to travel, and I make sure I serve those parts of me, too.
AM I THE RIGHT COACH FOR YOU?
Most of my clients high achievers who want to feel more alive in their work. In some cases, they climbed to the top of their ladder only to be left wondering if they climbed the right one and become stuck because it feels like there is too much at stake. They want to find new ways of working - or even completely new paths - that don't trade-off happiness for success. My clients need help developing their vision, setting clear goals that work in the real world, and cutting through the clutter and buzz of decision making.
OUTCOMES MY CLIENT'S HAVE EXPERIENCED:
 Clarity around what they really want.
 Actionable steps to achieve it in the real-world.
 Relaxation, less stress, less noise.
 More options, better results, success coupled with joy.
 Embracing authenticity as a leader, parent, partner, friend.
Reviews
"I have really enjoyed working with Jenn. She is an amazing coach, and I would highly recommend her to anyone who is interested in coaching. Jenn has helped me to grow in confidence and feel more hopeful about my life and my future. I have struggled over the last few years with managing my stress and anxieties that show in my personal life, parenting, and work. The coaching has helped me feel more secure and alive in this challenging state of my life. Jenn is excellent at creating a safe, non-judgmental and highly encouraging space!" Cerys, Mentoring Manager, XLP

Cerys