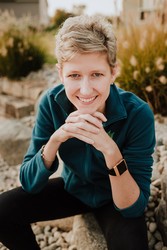 Jenny Erickson

Bayport, Minnesota
Entrepreneurship Coach, Business Coach
BA, PMP
I grow micro-businesses (<$1M in revenue) by activating your ideas through advice, coaching, and fractional COO support ---- where no fraction is too small.
About Me
I am a jack of all trades who loves to roll up my sleeves, ideate, and occasionally step back and be the person that is creating the space for you to be successful. I see patterns in things and have worked in almost every pillar of business from marketing to finance.
Your business is unique to you so I tailor every plan to the unique why of each person I work with and the first step to working with me is a free Idea Activation Session. From it you get a 2-page plan that walks through your results, measures, focus areas, building blocks, and a 12-month plan so you can decide if the approach works for you.
And because you already wear a dozen hats and it's important to spend your resources wisely, I make it easier to engage in a way that works for your business stage. For people who are ready to commit to an ongoing growth plan, a subscription makes it simple and predictable. For those who want to drive their own plan but want to consult with me when needed, I offer individual sessions you can book yourself at any time on my website - and all the specifics are taken care of right there. I also offer eCourses, classes, and cohorts to help you sift through all the noise in growing a business if you're if a DIYer :)
Because your time and money are valuable --- let's keep it simple, focused, and get you where you want to go.
Reviews
Jenny doesn't have any reviews yet.