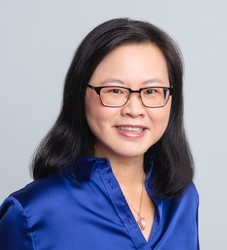 Life Coach, Christian Coach
Certified Professional Coach, International Coach Academy, Foundations in Positive Psychology, University of Pennsylvania, United States
"Is this what my life is all about? Is there something more?" If these questions resonate with you, I will work with you to align your values and beliefs with your aspirations for a purposeful life.
About Me
You have a good life. You have a good job that provides the financial means for you to enjoy life. You have a supportive and loving family and a wide circle of friends who add flavour and variery in your life. You have hobbies and do your part to support charitable works.
Yet, there are times in the quiet of the night when you are alone that you wonder if there is something more to your life. "Is this all there is to my life?" "I should be happy and grateful. Why do I still feel so empty?" "Something is missing and I can't quite place my finger on it."
My River Signature Program will take you through a self-discovery journey of your values and beliefs with the aim to achieve a clear sense of direction and purpose for your life. My coaching process draws from the analogy of a river where the river source symbolizes your values and the main river is the direction and purpose of your life. Your river is a reflection of the decisions that you make in your life based on your values and beliefs. How is the flow of your river? Does it flow freely, empowering you to live life to its highest potential? Or does it meander, often winds back and forth - a journey that is long and at times, misdirected and blocked by obstacles such as fear and disappointments? At the end of your coaching journey with me, you will gain in depth awareness of your values and beliefs and clarity on the alignment of your values with your life goals. With this awareness and clarity, you will begin living your life purposefully, positively influencing and inspiring those around you.
I was the person described here. I am a trained lawyer of 22 years, appearing to have it all. I have a supportive spouse and 3 incredible children. Yet, there was something missing. My heart was yearning for something more. I started coaching within my organisation from 2015 onwards and I now have my own coaching practice. I found my life purpose in coaching. Do contact me if you want to find yours!
Reviews
4 reviews (1 verified) (5.0)
Jenny contacted me as soon as she was assigned as a potential coach. Her skills are amazing and its great to see the work she does in guiding people to finding their true life goals.

Rajes
I've had the opportunity to experience many coaching sessions with Jenny and overall, feel she is a great coach. She met my needs by the end of each session and I thoroughly enjoyed working with her. She has a great sense of humour that brought lightness to our sessions and I felt quite comfortable with her as my coach.

Jamie M
It's very pleasant and insightful experience coached by Jenny. She helped me to aware thoughts and worries unconsciously burden me . Also she empowered me by looking at positives. I am more than happy to face the challenges instead of feeling guilty or self-judged disappointment. It is valuable time spending with Jenny. Thanks

Debbie Tao
Working with Jenny has been a blessing in my life! Her clear inquiries and excellent listening skills have helped me see solutions where there were none and re-frame situations to gain new perspectives and insights. She is empathetic while still pragmatic, and truly committed to walking with a client to find their best options moving forward.

Camille Gold