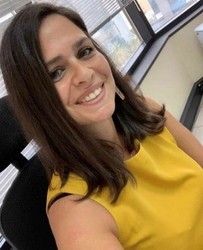 Jessy Ghamra

Dubai, Dubai
Career Coach, Life Coach
I help clients in identifying personal goals, developing leadership skills and planning career moves.
About Me
With over 12 years of experience in human Resource management, I worked closely with management team in defining and implementing all HR functions. My passion is helping individuals overcome challenges, grow and maximize their strengths, reach their potential and achieve great results. I worked with individuals one on one to help them find new careers, balance their lives, improve their relationships, work more effectively, and be their best.
Education and Professional achievements:
I hold a BA in Sociology, and have accreditation in the field of coaching: NLP Practitioner, Life Coach and Leading High-Performing Teams.
As an HR Professional and personal development coach, I work with individuals to help them identify and achieve their goals. I believe that each individual is capable of creating a deeply fulfilling life, grounded in passion and purpose.
Reviews
The experience with Jessy was very fruitful. She helped me see the positive in things which fueled my way of thinking, automatically reflected on my energy and my behavior. I am now a more determined person, i understand that strength comes from within, that i have full control over my life. I dare now to seek what i truly deeply wish for.

Zeina Kreichaty