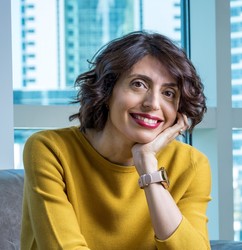 Career Coach, Leadership Coach, Life Coach
Master Life Coach, Master NLP Practitioner, Master Hypnotist, Relationship Coach
I coach corporate professionals to decide on what to do next so that they have a career that supports the life they want to live without compromising on what they value most.
About Me
I know how it feels when you crave for change and you can't make it happen.
I also know how it feels when you can:)
I worked for 21 years in the corporate business, managing teams, leading businesses, practicing resilience, growing in every possible way. I was recognized for my achievements and for being an inspiring leader.
When I had no more excitement for that path, I worked even more on myself to grow out of my comfort zone. I moved to a new country, embraced a new career path and a new adventure. I'm just enjoying every bit of it.
I've always been fascinated by the power of the human mind, curious about how much we can achieve, about the nature of emotions and how our habits and results are created. The higher I was progressing in the corporate ladder, the more conscious I became of the suffering and frustration of smart, talented individuals that are just not enjoying their work or their life anymore.
They compromise on their dreams, their values or their passions to fit in, to act responsibly or to achieve success. In the process, they lose their life sparkle and they suffer in their health.
What I learned through my own experience and through my coaching practice is that: THERE IS another way.
I can help you stop the suffering, get unstuck and feel, behave and live as you choose to.
I am a certified Master; Life coach, NLP Practitioner, Time Line Paradigm Techniques Practitioner, Hypnotist and Relationship Coach. Basically, I have the knowledge, the commitment and the tools to support your change.
All the work I do is guaranteed. That means that I will show up fully for you until you get the outcome you desire. Likewise, I want you to show up fully for yourself fulfilling your sessions and following my coaching instructions.
As you are serious about creating your change,you are requiring further exposure to me. It is easy:) book for your free consultation in here and make your choice.
Reviews
Jihen doesn't have any reviews yet.