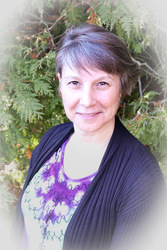 Jo Caragh

Warkworth, Ontario
Spirituality Coach, Life Coach
Psychology Major, Certified Professional Coach, Adult Education Certificate
Tired of the insanity? Ready to simplify your life? Life doesn't have to be this hard, but the change has to come from within. If you are willing to take a deep look inside, I will gently support you.
About Me
I believe the truth is simple… and quiet.
I believe we have two conflicting voices; an inner teacher and an egoic thought system AND
I believe we have the power to choose which voice we listen to.

We have the answers to what will make us happy; they come from the quiet voice of our inner teacher, not the loud, persistent voice of the Ego.
The problem is: we've been listening to the wrong voice.

Tune into the right voice by developing your Big Picture.

We start with the Big 5 Questions:
1. What do I believe about this life?
2. What am I?
3. Why am I here?
4. What do I genuinely want? and
5. How do I get it?

The first four answers come directly from your inner teacher and the more we listen to this voice, the more familiar it becomes.
And how do you get what you want? By recognizing that quiet and gentle voice and learning to release the false beliefs (those loud egoic thoughts) that do not serve you. The only real choice is which voice you listen to. It takes practice and discernment. And this is where we spend our time, practicing together.
This simple and consistent approach will apply to every area of your life, things become simpler and you experience more peace and joy.

I use the principles of 'A Course in Miracles' as the basis for my coaching.

Why?

Because of my own profound experience with the Course. It delivers what it promises, peace of mind. How? Through forgiveness. But forgiveness in the Course is not a pardoning but rather of seeing the false as false and releasing beliefs that are not true.

I know how challenging this deep work can be. For over 20 years I have supported people through profound change and challenges; 17 years as a 911 operator and 4 years as a certified life coach. My gift is my ability to bring a sense of peace to those in distress, so they can hear that quiet voice.

You don't need to be A Course in Miracles student. Request a free consultation to see if The Big Picture Approach is right for you.
Reviews
Jo doesn't have any reviews yet.