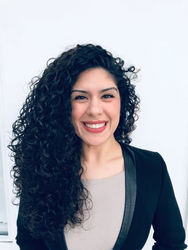 Jocelyn Silva

Los Angeles, California
Relationship Coach, Life Coach, Spirituality Coach
Certified Sex Educator
I coach women and femmes (ages 18-65) mend their relationship with sex so that they can experience true pleasure. I help my clients navigate their intimate life with honesty, clarity, and confidence.
About Me
Hello beautiful soul! So happy you're here!
My name is Jocelyn Silva (she/her) and I am a Sex and Intimacy Coach. I have been a sex educator for 10 years and finally decided to take my skills to the next level with coaching. My training in the sexual health world is highly inclusive and broad. I believe that everyone (no matter who you are) deserves pleasure, a happy and fulfilling sex life that is rooted in healthy communication, honesty, and empowerment. I have obtained my Bachelor's Degree in Gender and Women Studies and my Masters in Social Work which has helped me my journey.
My style of coaching is a combination of:
Meditation/Breathwork practices
Weekly online self-reflective sessions encouraging my clients to go deeper beyond just the physical aspect of sexuality
Weekly soulwork assignments
24/7 1:1 Support
Access to all my workshops and courses within the time that we are working together
Even though I am not a religious person, I am a spiritual one and incorporate some of that into how I coach. I strongly believe that our minds, bodies, and spirits contribute to the quality of life we lead in and out of the bedroom.
I am so excited to meet you! Feel free to apply for a free Connection Call! Say YES to your intuition and NO to your fears!
"Changing the world one orgasm at a time."
Jocelyn Silva, MSW Sex Coach
Reviews
6 reviews (5.0)
My journey with Jocelyn was nothing short of amazing. From the moment we connected, I instantly knew I had to work with her and that we was going to make such an impact on my mental and sexual health journey. She gave me so many helpful tools on how to overcome my anxieties and insecurities around sexuality in a way that empowered me to become more confident and self-compassionate. You can truly see how much Jocelyn cares about her clients and how she has poured her heart and soul into her coaching program. I left each of our sessions feeling relieved, refreshed, and hopeful. She really listens and asks questions that enable you to dig deep into yourself- which was one of my favorite things about working with her. She was never afraid to challenge me and help me look at things with a new perspective. It truly changed the way I see myself sexually for the better, and develop my own expectations for future partnerships. Working with Jocelyn helped me to feel more whole, and I never wanted a session to end. She is absolutely wonderful, and I would recommend working with Jocelyn to anybody looking for Sex Coaching and is looking to change their lives for the better.

Sam A
I worked with Jocelyn for 13 weeks. I was so curious to learn more about different sexual position. I believe over the 13 weeks I have gained so much knowledge about myself, there was many different exercises she had me do that I wouldnt have that on my own. I believe because she made me feel so comfortable I was willing to do whatever she told me. And in the end it made me a stronger person and realize that Im worthy and deserving. I am so happy I have the opportunity to work with her.

Tishia
Working with Jocelyn on my journey has been life changing! I love how she goes deeper into the roots on how to improve your sex life and relationship with your body from the inside out. I dont only feel more at peace with my sexual life but also more confident and ready to take over the world

Ana Leñero
Jocelyn's 12-week program changed my life!! She was intentional about helping me improve through my sex life, personal life, and how to work through the guilt and shame I was experiencing. She tailored the program to my needs and always allowed me to express myself freely! If you are thinking about working with her, DO IT! The best investment you can make is in yourself and with Jocelyn's help, it is so worth it!

Susanna
Intimacy has always been a struggle for me, an oppressive upbringing and general lack of trust had set up barriers that Jocelyn and I worked diligently at each session to break down. Every week I looked forward to learning more about myself, what I needed, and how to improve my relationship, but in all honesty I was improving myself as an individual. Through this program I gained a firm understanding of what my goals are in intimacy, and the physical steps I need to take to get there. Learning how to give myself assignments outside of the coaching sessions helped keep me accountable throughout the week, and create concrete change in my life. I finally became comfortable with my own sexuality, and learned to truly embrace it, and I want to say THANK YOU for giving me the safe space that guided me towards the path of a powerful and curious queer woman. This program has substantially improved my relationship with my partner, with the tools I learned in session we are now more open with one another and optimistic about our future. I am so happy with the motivation I got in our sessions to finally be more explorative with my body and what it enjoys, and it has eased a lot of worry within my own relationship. I highly suggest this to ANYBODY in a relationship, looking to be in a relationship, or looking to learn more about intimacy and pleasure. I suggest you experience this with Jocelyn because she is knowledgeable, caring, fun, kind and understanding. This program will continue to make changes in my life, and is the best investment I have made so far this year!

Shelby B.
Jocelyn Silvas Dating and Intimacy Coaching Program has helped me open up about long repressed sexuality topics, explore what I want in a relationship and in my life for my future, and understand the bigger picture ideas of what I may not see or understand about myself and these topics. Since we are all marbled differently and topics around sexuality can be quite embarrassing and self-confronting, Jocelyn made in easy to discuss these difficult topics and made me feel normal and accepted. Since resisting whats true about ourselves can painful and frustrating, it has been uplifting to acknowledge and accept certain parts of myself that others might judge or see as outside the norm. I do want to live my highest and best self and am grateful to have met and connected with Jocelyn for this journey. She is highly professional, patient, and excellent listener, knowledgeable in the field of sexuality, highly organized and on time, and a servant hearted person. I highly recommend her to anyone interested in exploring themselves more deeply and what may be causing them pain or holding them back from living their highest best lives!

Russell C.