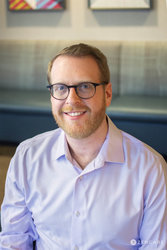 Joe Kanengiser

Chicago, Illinois
Executive Coach, Leadership Coach, Career Coach
Master's Degree in Organizational Psychology/Social Work
I coach emerging and established professionals, often those who work in tech and startups, to increase managerial/leadership effectiveness, as well as increasing overall fulfillment in work and life.
About Me
Joe Kanengiser has 10+ years of experience working with managers, executives, and emerging leaders, primarily in the technology and startup industries. Prior to studying organizational psychology and coaching, he worked as a consultant with tech companies, ranging from bootstrapping startups to large enterprises, assisting in building teams and developing leaders. His coaching and consulting services include: Workplace personality assessments, including the Hogan Leadership Series Assessment, executive and leadership development, transitioning from technology focused roles to managerial roles, candidate testing and screening, and workshops in a variety of topics, including: team communication/cohesion, conflict management/resolution, adapting to diverse working/personality styles, and the use of mindfulness at work. Due to his background and practice in psychology, he has a deep understanding of human behavior and functioning, which informs his methods to help people be more effective leaders and achieve change. Joe studies Organizational and Leadership Coaching at Northwestern University and obtained his Master's Degree in Industrial/Organizational Psychology from the University of Southern California School of Social Work.
Reviews
Joe doesn't have any reviews yet.