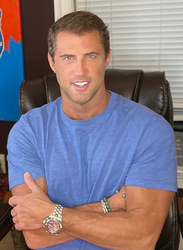 Joe Staszak

Philadelphia, Pennsylvania
Relationship Coach, Health and Fitness Coach, Life Coach
BA, Divorce Coach, Relationship Coach, Certified Master Life. Coach, Certified Professional Coach, Fitness Coach, Nutrition Coach, Spiritual Advocate
Are you struggling in your marriage/relationship and heading for or are in a high-conflict divorce? Are you tired of not being able to find, keep or attract "the one"? My program SOLVES your problem!
About Me
Are you beating yourself up because you continue to make the same mistakes in your personal relationships or just can't seem to find "the one"?
Are you anxious about how a divorce will affect your children, your finances, your emotional well-being and your future?
Are you considering or are you currently IN a high-conflict divorce and you feel like even your closest advocates aren't looking out for your best interests?
Has your behavior dipped below the normally high standards you've set for yourself as a positive, upstanding and protective role model for your children?
My "Be The One" program WILL solve your problems.
I will provide you with the blue print to arm yourself against your BIGGEST enemy and your most angst-producing fears while you transform yourself into an elite version of YOU!
With my real life multi-divorce experience, education, knowledge and total commitment to helping others to NOT make the same mistakes that I did I can humbly say this:
THE SOONER YOU GET I KNOW WHAT I'M TALKING ABOUT, THE SOONER YOUR WORLD GETS BETTER!
Just remember, you get what you want by being it, not chasing it. So let's get to work!!
Reviews
3 reviews (5.0)
Joe has been instrumental in turning my program around. I cant believe how much Ive learned about myself since working with him. He really knows his stuff and hell give it to you straight but in a very caring and productive way. Hes a big time motivator and the results speak for themselves. Ive had the wrong thoughts and ideas about my role and my behavior in a relationship and he saved me a lot of money and angst in the divorce process. Incredible coach, incredible guy! If you DONT work with him then youve just made another big mistake. Do it anyway is one of his mottos. Whatever your concerns are about him or his program - Do it any way. Trust me on this one!

Michael
Joe is helpful providing alternative perspectives that are enlightening and constructive. He will kindly encourage deeper dives and push your comfort zone in an eye opening manner. He is intelligent, eloquent, articulate and gently pushes and pulls you along your journey. Absolutely recommend Joe as a coach.

MJ
I would highly recommend Joe Staszak as divorce/ relationship life coach. He is empathetic, insightful and asks thought-provoking questions in order for me to dig deep and grow in my personal relationships. Working with Joe has allowed me to organize my thoughts, create a plan and have accountability. Joe's encouraging personality and his amazing ability to be a good listener are just a few examples of what makes him an excellent divorce/life coach.

Kathleen