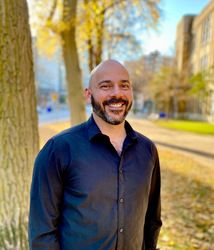 John Bowman

Toronto, Ontario
Career Coach, Leadership Coach, Executive Coach
I help people who are ready for a change in their career trajectory by lifting the fog preventing them from seeing a way forward.
Details

Toronto, Ontario m4p1t4
4168436609
Send Message
Visit Website
Hourly Rate: $200 to $350 Canadian Dollars
Gender: Male
About Me
WHAT I DO: I help people identify their personal and professional goals and engage in clear action to achieve them.
WHY ME:
I am a certified career transition coach who thrives on helping people discover and develop their true career path. I have 15+ years of experience working for both large and small corporations within the public and private sectors, as well as building startup companies from the ground up. I have worked and studied in Canada, Northern Ireland, and the Netherlands.
AREAS OF EXPERTISE:
o Career Transition
o Entrepreneurship
o Personal and Professional Development
o Motivation
o Leadership
HOW IT WORKS:
Career Transition Coaching begins with an examination of your values and goals in order to clarify a vision of long-term success. We then broaden the inventory of critical career factors by assessing of your strengths, skills, interests, preferences, personal resources, and knowledge and development gaps.
We work together to identify and evaluate career-related options, opportunities, and potential outcomes, allowing you to choose and engage in concrete action steps towards your career goals. Subsequent coaching typically focuses on maintaining momentum and accountability, as unforeseen challenges and insights inevitably impact ongoing progress and direction.
Reviews
3 reviews (5.0)
Life Changing is the phrase that comes to mind when I think about John. At a time when I felt my career prospects were few and far between, I enlisted Johns services as a career coach. In working with John, I discovered the sky (and beyond) was the actual limit regarding what I could accomplish. John possesses the natural talents of both a Career Coach and Mentor. John creates this safe space where you find the answers to your questions all on your own - he is a conduit to self-reflection and personal growth. Often our sessions were, me wondering how he was consistently able to get me to find the solutions to my own career obstacles. Through weekly sessions complete with self-reflection exercises and homework, I have been able to realize my own potential and abilities to create a brand that best represents my authentic self. John would be a true asset to any individual or organization in need of accelerating development and/or expanding opportunities, and comes with my heartfelt recommendation.

M.D.
John Bowman is an outstanding, one of a kind coach! He genuinely cared about helping me find focus, clarity and confidence. Through focused, thoughtful questions John helped me unravel the stories I was telling myself about what is and isnt possible being over fifty years old. The results: I am pursuing a career in HR management and Ive reconnected with friends and family, finding support systems I didnt believe I had! I am so grateful to John for this amazing invaluable experience!

Susan Szarka
John helped me at a time when I needed someone most. He helped me create a plan that took me from being broke and lacking direction to being a goal-oriented, motivated, successful entrepreneur. If it wasn't for John I don't know where I'd be. He is caring and gifted at helping facilitate growth.

Brendan Pereira