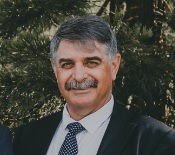 John Cameron

Langley, British Columbia
Business Coach
CIMC
Rock Solid Business Coach - companies looking to reach the next level are well served by our proven approach. We've consistently delivered great results for small & medium sized businesses since 2001
Details

Langley, British Columbia V1M 1M1
Send Message
Gender: Male
About Me
I'm John Cameron. I started Rock Solid Business Coaching in 2001. Before this "career" I started my own bricks & mortar business from scratch. After building the company up to 25 employees I successfully sold it.
I think it's an advantage that I "walked the walk" before I started "talking the talk." First hand experience matters.
Rock Solid's coaching programs are designed with one objective in mind: to help business-people grow strong profitable companies that run smoothly. Isn't that what we all want?
Passion isn't enough. It's been said that the entrepreneur's path is littered with the bodies of passionate people and it's true. It's vital to understand how solid companies are built. I believe that coaching programs should clearly identify proven roadmaps that entrepreneurs can follow to achieve profitable growth – and ours do.
At Rock Solid we've uncovered the difference between someone who's just surviving in business AND someone who's proactively building a strong profitable company. We've created coaching programs to help you make the transition - efficiently & effectively.
Our Company Strength Program is designed for owners who have grown their companies to between 5 and 15 employees - without achieving the profits and time freedom that they should be getting.
We also have programs for other sizes & business challenges.

Developing programs is the process of packaging information that works well for the differing stages of growth. Our programs are then customized to meet the needs of each & every client - like you!
This strategy allows our coaches to deliver better results faster than our competitors. Is it time for you to get the Rock Solid advantage on your side?
Our programs can make a huge difference in your life & they're not all that time-consuming to implement. They set the stage for the future you want AND the results are well worth the effort.
Reviews
5 reviews (5.0)
Rock Solid Business Coaching is just what I needed to take my business to the next level! As a small business owner, I am constantly making decisions without a lot of guidance or support. Up until I started with John, my service-based business had offered many different programs because I wasn't sure which direction to focus all my efforts on. Now that I have gone through the training process, my business has much more direction and focus and it's helped me to organize all my business systems in a way that I can feel confident and secure in moving forward and investing my time and energy into, with proven and expert-backed support! Thanks to John and Rock Solid Business Coaching, my business is thriving because of your expertise and guidance!

Jenny Abbot - Harmony Kids Yoga Fort Langley, BC
The Company Strength Program provided me with the opportunity to take my company to the next level in a way I never imagined possible. It's also allowed me to achieve the elusive work/life balance that I've been seeking.

Jonathan Kervin - Kervin Marketing Campbell River, BC
John and his team at Rock Solid are simply amazing! I should have done this years ago. I highly recommend Rock Solid as they have streamlined the operations in so many positive ways without interrupting our day to day operations.

Phil Jackman Valley Traffic Langley, BC
John really came through for me in the first years of my transition to the office - from the barns - the tools and knowledge that he provided me with are still used today! Once you build a relationship with Rock Solid it is there forever.

Jason Froese JD Farms Langley, BC
"Rock Solid's business training improved the performance of my company. The Company Strength Program was particularly valuable as I transitioned out of day-to-day operations and shifted responsibilities to the next generation. My son is doing an excellent job managing the family company. My daughter has now joined the company and is also taking Rock Solid's business training. It makes me a proud Dad to see the next generation take over the family business and continue our traditions. I highly recommend this business training."

Jack Froese - JD Farms Langley, BC
The Smart Way To Find A Coach

1 Describe Your Goals

2 Get Matched

3 Free Consultations
Find My Ideal Coach Now