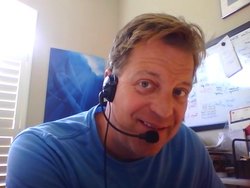 John Geshay

Jacksonville, Florida
Business Coach, Executive Coach, Career Coach
DISC certified, SPIN Sales Trainer, Executive coach certified
I relish helping owners and c-suite executives lean into the next phase of business growth. I also advise professionals who feel they are stuck or considering a career change.
About Me
I come from corporate America where I won a lot and lost a few.
In previous roles in sales and marketing management I worked with supply and distribution business owners and their teams on everything from strategy, marketing, sales planning and people development.
Brian Tracy, renowned coach, author, and speaker, is quoted as saying that 70% of company problems are people problems. It really all boils down to people. I really hone in on the people side of your business.
I don't know everything - but I know a lot. I'm not what you call a "book smart" guy- I'm a jump in and "let's get er done" kind of guy. I've made more sales calls than I care to count. I've had conversations within all levels and titles of contractors, suppliers, distributors, and agency support. I've seen and used what works, and have the "scar tissue" from learning what doesn't work.
Speed to market is critical- customer service is equally critical- to thrive you must have a culture for working together, collaborating with leverage and celebrating the WINS!
In my coaching sessions I use a proactive process with Brian Tracy's coaching modules, which include about a dozen sessions each under the main topics of:
Module 1- Gain Power Through Clarity
Module 2- Increase Your Effectiveness
Module 3- Grow Your Business
Module 4- Sales Superstar
Module 5- Become a Leader
Module 6- Turbocharge your Personal Performance
For my clients it generally takes approximately 1- 2.5 hrs to prepare for our coaching session. The rationale is to keep our focus on proactive steps not the reactive ones. I don't know all the answers, however I do know a lot of questions. I let you, the client, make the decisions. I'm your sounding board, your second set of eyes, your unbiased reference point on what works and what doesn't work.
You will have to address questions, challenges, prods & pokes. That's OK because thats what you hire me for. Our time together will ultimately result in a Win-Win!
Reviews
When your marketing and lead generation is in the ditch, what you have been doing is just not getting the leads it used to, get in touch with John. He's proven to be super knowledgable and has great insights. We needed a new ad agency and he helped us find the perfect one to create a newsletter for us that's keeping us in touch with our past clients and making sure they call us when they need us again.... and not our competition! Can't say enough about his business savvy which goes far beyond just marketing, he's helped us get control over our personal time, operate far more effectively, hire and promote the right people, and we've watched our bank account get fatter too! Great coach and mentor and 100% focused on you and your success.

Jim Deckle