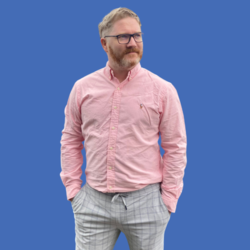 John Hickey

Limerick, Limerick
Executive Coach, Business Coach, Life Coach
EMCC Accredited Coach, Grad Dip Executive Coaching, RocheMartin Accredited ECR/ECR360 Coach, Dip. in HR, M.Sc. Equality Studies
My ideal client is generally a professional, at a middle-management level, who needs help creating a better work-life balance while seeking additional leadership responsibilities.
About Me
John is a certified EMCC Practitioner Coach, specialising in Executive and Business coaching with some 225 coaching hours as well as a Graduate Diploma in Executive Coaching. He has also trained with 'The Fantastic Hairdresser' as a licensed Business Coach for the hairdressing and beauty industry with extensive experience in this industry.
He has been involved in several human rights campaigns over the years including the Marriage Equality Referendum in Ireland. He was the lead organiser of the 2013 Bid to bring the 2018 Gay Games to Limerick, Ireland which resulted in Limerick coming second to Paris, France and ahead of several other international cities.
Reviews
6 reviews (5.0)
Working with John was an extremely rewarding (and fun!) experience. He was patient when I needed that and direct when I needed that too. He held me accountable and kept me focused without being overly or unnecessarily structured. As a result of our discussions, I have much greater clarity and awareness of what I want and how to get there.

Ben S.
Highly motivating and encouraging without being too soft on you, John let's you know what his expectations are of you and provides the tools necessary to meet and exceed those expectations. Highly recommend!

Darren
John helped me to really understand what I wanted. It was an empathic approach and has left me feeling so excited about my business and where Im going in my life. I still get overwhelmed but I have the tools now to manage the overwhelm and I am confident and ready to do it.

AlisonB
John's caring and calm demeanour made the coaching process enjoyable. I didn't know what to expect when starting but he was very deliberate, on task without feeling robotic or too procedure-driven which allowed for an easygoing learning curve with each week that passed by in our meetings together! I looked forward every time we had a scheduled session so thank you again John

SeanA
I really liked that he knew what he was doing and was very confident that he could get me out of my current situation and into a better place.

Kathleen
John is a fantastic coach who gets to the core of the issues excellently. He helped me to take drastic steps (they were needed! ), which brought me a massive shift in my business and my family life.

OrlaithG