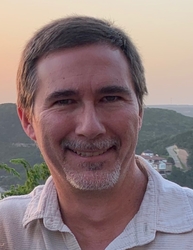 John Smotherman

Bedford, Texas
Life Coach, Relationship Coach, Spirituality Coach
JD
My specialty is in helping people build more fulfilling lives.
About Me
I'm a life coach, consciousness coach, public speaker, and author of The Consciousness Paradigm. I'm passionate about helping people build more fulfilling and rewarding lives. My approach is to help people discover the best within themselves, understand what motivates them at the deepest levels, resolve internal conflicts and doubts, shore up weaknesses in their approach to life, and apply their greatest strengths to living their best life.
I've helped clients find meaning and purpose in life; overcome depression, trauma and grief; undo bad habits and build new ones; rewire their thinking; eliminate negativity; shield themselves from drama and toxic behaviors; erase painful memories, guilt, and shame; grow spiritually; build better relationships; and find peace, love and joy in life.
My background prior to becoming a coach and speaker is I worked for many years as a family lawyer, so I saw every day how less than optimal thinking, counter-productive habits, and less than optimal approaches to life led to a lot of misery. My passion for truly helping people led me to leave the practice of law. I wanted to give people the tools and help they needed to avoid the miseries of life BEFORE they happened. Adding to that I intensively studied how our minds work, and how best to use them to create the lives we want. I've studied the perennial wisdom from Christianity, Hinduism, Buddhism, and Taoism. I've also studied metaphysics, philosophy, and psychology as it relates to how our minds shape our realities, our ability to successfully create what we desire, and our ability to experience peace, love and happiness.
John Smotherman
Forging Oak
Reviews
3 reviews (5.0)
John was wonderful to work with. He has a very deep understanding of people and how we can improve ourselves and our lives. Not only did he help me overcome many difficult challenges I was facing, but his advice and guidance have helped my entire family tremendously. I HIGHLY recommend him.

Dannie Rivers
Working with John has been an experience that I was not expecting. I knew I wanted to see some things change in my life. I knew that I wanted to accomplish some professional and personal goals. My goals were not only met, but they were exceeded. Furthermore, in the midst of my work with John, I went through a series of unexpected life crises: a move, a special needs diagnosis for one of my children, and a divorce. John's approach not only helped me navigate these waters, but his unique work in consciousness brought a healthy restoration in my relationships. When both clergy and counselors told us that there was little hope for saving our relationship, we decided to try John's unique approach to facing our own individual issues. In our case, this brought us back into each other's lives. We found a deeper love for one another. We also both embraced deep personal change. The road was not easy. However, I am living on this side of transformation now and I can say it is possible and it has changed everything that matters to me and for the better. I recommend John to anyone without reservation. My life would not be the same, my children's lives would not be the same, and my partner's life would not be the same had I not experienced his coaching.

Jennifer Ramsey
When I met John, I was going through an extreme change in my life and had no idea of which direction to go. His strength supported me while I was learning how to support myself. John helped me to learn about myself and how to allow myself to grow on a few levels. He listens. He hears what you might not yet be able to articulate and he helps you learn how to voice your truth. Everything about my experience with him as my life coach has been and continues to be, positive. I strongly recommend John Smotherman for your life coaching needs. Any experience you have with him will enhance your life.

Tammy