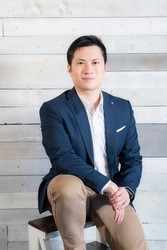 Dr Jonathan Tam

Richmond Hill, Ontario
Career Coach, Leadership Coach, Team Coach
BA, MA, MS, PhD, University of Oxford
I use personality science to help Millennials gain career clarity and build soft skills to achieve their goals.
Details

Richmond Hill, Ontario L4B 3G2
905-882-2202
Send Message
Visit Website
Hourly Rate: $350 to $500 Canadian Dollars
Gender: Male
About Me
My ideal clients are Millennials who feel that they have reached a plateau in their career development and productivity. Through my coaching, my clients gain clarity of mind as well as a solid action plan to break through their limits.
I apply personality testing and coaching to help clients thrive and achieve real results. Click my profile link above for some FREE coaching tips.
My method is supported by sound science. My research-driven approach is informed by my Ph.D. at the University of Oxford specializing in the social psychology of Millennials and Gen Zs.
My clients regard me as their confidential and supportive sounding board to increase self-awareness, clarify career goals, build soft skills, and achieve their development objectives. Book a consultation now to learn more about what I can do for you.
Reviews
21 reviews (5.0)
I worked with Jon at Azurean Coaching & Consulting, he did an assessment on myself as a business owner. He spent the time to explain how I scored and where I can improve as a business owner in order to achieve greater success. His analysis was very accurate, and actionable. I made a conscious decision to apply what Jon suggested in my business and I'm fascinated by the results. For business owners who want to their business to the next level, talk Jon and I promise it will save you years of headaches (like I have experienced :)

Business owner of a Design and Marketing Firm
Jon Tam played an instrumental role in my high school career. He emphasized critical thinking and ingenuity by teaching strategies on how to digest dense material into readily discernible narratives. Jon helped me develop a passion for social studies and I received a high mark on my IB World History SL exam. His guidance served as a basis for my undergraduate and graduate-level academic interests in international relations at Columbia University.

Peter at Columbia University
Mr. Tam is highly dedicated to helping people. His clear teaching and considerate encouragement allowed me to feel more confident in my studies. In addition, he is always approachable and respectful of individual academic needs. With his constructive guidance, I was able to acquire a solid foundation for effective writing strategies to critically advance my arguments.

PhD Student at Johns Hopkins University
Two years with Mr. Tam have taught me the science of thinking critically and the art of thinking creatively. Mr. Tam not only pushed me for a greater breadth of knowledge, but also encouraged me to entertain a greater width of view of the world we live in. My learning experience with Mr. Tam was instrumental in preparing me for college education.

Chris at Northwestern University and Peking University
Mr. Tam is a true educator who taught me to appreciate all aspects of the world. His multidisciplinary background allowed me to explore my passion in various fields, including music (I am still playing the cello!). I enjoyed how he emphasized that I should explore, experience, and learn from all opportunities available to me and I really believe that being a well-rounded student played a huge role in my admission to Duke University. Having a mentor who truly cares is a gift for any student, and I can undoubtedly say that his teaching played a huge role in my success as a student.

Justine at Duke University
Mr. Tam is empathetic and is aware of each student's differences and potential. He's understanding but he knows you can always do better. His teachings are still with me because they go beyond the classroom. There's something characteristically admirable and approachable about an educator who is not only brilliant at teaching, but also consistently striving to learn himself. At the end of the day, Mr. Tam is someone who cares and is someone who will guide you so long as you're willing to follow.

Rachel at Fordham University
When applying for colleges, I knew that I wanted to attend a smaller school for the close-knit relationships I would be able to form with friends and professors. I was lucky in high school to have experienced frequent feedback on my academic performance from Mr. Tam. Therefore, I knew that this kind of guidance was what I wanted during my undergraduate degree as well. With Mr. Tam's counsel, I chose a liberal arts school that had a strong focus on creative and critical thinking.

Kathy - Wesleyan College
I first met Mr.Tam during high school and he has been my mentor ever since then. Facing the world of college possibilities is always a challenge for everyone. Personally, I did not know how to apply for a college and which major to choose. But, with Mr.Tam's help and advice, I could overcome the obstacles. The whole time I worked with Mr.Tam, I found him to be diligent, agile, and one of the most qualified educators I've ever talked to.

Harry in UCSD
Jonathan's advice has helped guide me through various challenges that I faced in first year of university. Not only was I doing poorly, but I was also struggling to find my identity in who I am as a person. After the conversations with Jon, I was not only able to witness myself grow and mature, but I also adapted to a having a better well-being. I was able to perform a lot better in my university academics closer to third year, and I also noted that I became a lot more mature with life skills such as time management and problem-solving across many different situations. Jon Tam has had a major impact on helping me overcome these struggles to make me the person I am today.

Immanuel in the Kinesiology program at the University of Waterloo
Jon has been a great mentor to me in my life. He really taught me a lot on how to see life from a different perspective through fitness. Really can't thank Jon enough for the mentorship and his genuine concern for my well-being.

Brian
Dr. Tam is a wonderful teacher and an insightful mentor. I sincerely appreciated his thought-provoking and engaging discussions. It was very helpful for me how he constantly assisted and encouraged critical thinking. I confidently believe that his constructive feedback have more than positively impacted my academic career.

Suzi Hyun - http://www.suzihyun.com - UC Berkeley, Pratt Institute
Dr. Tam was always a very pleasant person to be around. He promoted active learning and was always more than happy to engage in educational and personal conversations with high school students. He helped students to effectively express themselves and used analytical reasoning to guide them onto the right path. The critical thinking skills he developed with me has helped me a lot throughout my college experience.

Meena Huh - Northeastern University
Dr. Tam is passionate about his work and has the enthusiasm and energy to engage students. He has extensive experience working with many students from different countries and I would highly recommend him to anyone who is eager to grow as an individual. He is extremely knowledgeable about higher education. Critical thinking skills I have learnt from him has prepared me well for my studies at Columbia University.

Joshua Lee at Columbia University
Most students have a hard time getting a grasp of what they want to do in the future. I was also one of them. Dr. Tam gave me support and ideas not just on how to improve my academics, but also helped to find my desires and map my future. His advice has helped me a lot getting through high school, choosing my university major, and ultimately shaping my career path. Education is not a short-term project, and I believe Mr. Tam is the right person to guide one's education.

Tom at Syracuse University
In every admission cycle, top universities look for not only outstanding scores and amazing recommendation letters but also intellectual maturity and potential. Jon taught me how to think outside the box and to develop my potential for a success beyond high school. His teaching and mentorship did more than getting me into a top school. He helped me to become a mature intellectual and instilled in me a way of thinking that allowed me to succeed wherever I went.

Jason at University of Rochester
Jonathan Tam taught me to think for myself and to understand that the popular opinion is not necessarily the right one. He taught me how to conduct research and collect information from various different sources. As an artist this is incredibly helpful as there is a lot of research that goes into every artwork I create.

H. Ryan S. Kim - https://www.hryanskim.com
With his expertise, Jon will always able to point you towards the right direction in getting answers. His experiences has also been invaluable in helping me make decisions about my education goal of successfully getting into Harvard.

Graduate Student at Harvard University
Jon is amazing in how he provides clarity and concrete advice to my personal strengths and areas of improvement through the personality test. Being revitalized, I felt more confident in pursuing my next level of professional achievement.

Senior Executive of a Non-Profit Organization
I completed the personality assessment and had a consulting session with Jon. It was an extremely valuable experience. I now have a better understanding of my personality profile. Moreover, I understand why people behave a certain way in the workplace based on their personality. Jon went over strategies to help me cope with various work situations, as well as strategies in dealing with people in the work place. It was definitely a worthwhile experience, so much so that I am considering using Jon's service for future hires or promotions in my office.

Surgeon and University of Toronto Lecturer
Jon is an expert in social psychology and it is a pleasure to be coached by him. Through working with him, we identified various areas of development I can work on and the process afforded me greater clarity on the next steps I can take professionally. His advice has indubitably translated to a higher performance in my work and has ultimately saved me precious time.

Professor from the University of Alberta
Jonathan has been instrumental in my professional and leadership development. I've always believed in learning things the hard way, trial by fire, learning through failure. However, Through Jonathan's consulting and big five for the work place assessment, I was able to move mountains and clear non-conducive work habits and mindsets. All of that was accomplished through the initial assessment and consultation. Jonathan is patient, attentive, and most of all - goes above and beyond. I would recommend Jonathan to anyone looking for professional or student looking to make rapid advancements in their development.

Business owner of marketing firm