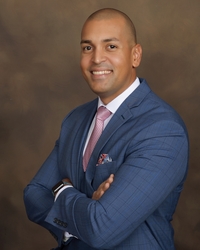 Jorge Cortijo

North Charleston, South Carolina
Executive Coach, Leadership Coach, Life Coach
BS, Master Resiliency Instructor, Certified Personal Trainer, Certified Nutritionist
I help motivated hard-workers establish balance and success in the 4 domains of life: Career, Health, Education, Family (relationships). We address Mental, Physical, Social and Spiritual constructs.
About Me
Jorge Cortijo, founder and CEO, brings 17 years of proven success
in international military, corporate and academic leadership
development.
At Kairos Action Group we provide world-class coaching and
consulting services across a broad spectrum of personal and
professional needs. By exploring 4 domains of personal
development (Career, Health, Education and Family) we are able to
assist individuals as well as teams reach the pinnacle of their
potential.
In alignment with our mission of empowering leaders
all over the world, all KAG services are offered in English and
Spanish.
Reviews
7 reviews (5.0)
I had the pleasure of getting coached by Jorge on 4 important aspects of life (health, career, education and family). His approach to coaching is very practical, compassionate and supportive. I have hugely benefited from my interactions with him and have had several "aha" moments that I will cherish for the rest of my life. Jorge has my highest recommendation as a life coach and a friend you need when in need :)

Falguni Katira, Management Consultant, San Francisco
Jorge's skill to listen and help create an ACTION plan is nothing short of amazing. In one month we were able to create our CHEF domain goals, identify my 4 core values, and create 4 separate 13 week action plans to make 2019 the best year to date. My progress from week 1 to week 4 is night and day, being able to truly identify what I'm great at and capitalize on it has to be the biggest takeaway from it all. When Jorge started coaching me I was starting a new career chapter in my life and I could now say that my dominoes are lined up and ready to take action.

Ronaldo Linares, Executive Chef, New Jersey
The work that Jorge has been able to accomplish in my company is nothing short of impressive. In a few short months, he helped me create a vision for my organization and laid down a path of success by showing us what is possible. The current state of the culture and structure of my company is largely due to the work that Kairos Action Group has done with us in 2018. Jorge has been there all along and has enhanced my career by also helping enhance areas that I had previously neglected. He gets my highest recommendation as a life coach and business consultant. Any individual or entity who comes into contact with him will benefit exponentially

Nathan Crowe, Founder & CEO, Always Shine-N, San Antonio
Jorge was once my student and I immediately recognized his natural talent for teaching and mentoring. Years down the road, we became project partners on an international initiative that I created. His ability to communicate with the masses in a way that facilitates personal transformation is a rare skill. Jorge definitely receives my highest recommendation in the field of coaching as well as any field that requires the skills of a world-class communicator and influencer.

Amy Ashmore, PhD, Sports Sciences Author and Professor, Las Vegas
I worked with Jorge for about a year, utilizing his services for life-coaching. Jorge helped me realize my limiting self beliefs and overcome many of them. His CHEFS plate approach to achieving balance in the four areas of life helped me to realize that it is possible to live a dynamic, successful life that doesn't require family, friends, or health to suffer while pursuing intense goals. I was able to stop creating to-do-lists and start getting the most important work, the work that would get me closer to my goals accomplished, done each day. He's not a miracle worker - because the miracle lies within YOU and ME - but if you want a coach who will make you dig deep and uncover the obstacles you have placed in your own path and help you to remove them so you can fly high, he is the right man for the job.

Andrea Granieri, Singer/Songwriter, New Jersey
Jorge coached me through his "4 domain" approach (CHEF - Career, Health, Education, and Family). His energy, motivation, and background provide a great platform to help people transition and grow into their greatest self. Jorge sees you where you're at and pushes you to challenge yourself in all domains while focusing on the "One Thing" (which he coaches you through). He puts his clients first, which is rare to find. During one of our coaching calls, Jorge felt compelled to send me an additional book that he knew I needed to read; this act of kindness went above and beyond. He loves serving people, and he loves what he does. I highly recommend Jorge for his coaching.

Melanie Marshall, Marketing Intern, Seattle
Jorge has a unique 4 domain approach (Career, Health, Education, Family) which enables you to develop a strategic plan for the main areas of your life. Most people will only focus on career but Jorge wisely realizes that every areas works together. This analytical and disciplined approach enabled me to start the year off with a formal plan. I recommend him for anyone looking for a rigorous & structured approach to their life.

Juliet Herman, Business Strategist, New York