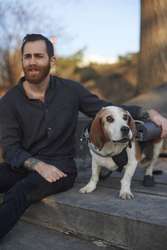 Josh Krantz

Philadelphia, Pennsylvania
Relationship Coach, Life Coach, Family Coach
B.A. Psychology
I offer remote coaching to anyone who is looking to improve the quality of their interpersonal relationships and reduce the amount of stress/anxiety that is getting in the way of their lives.
About Me
Are you someone who struggles with fear, worry or stress? Do you find yourself stuck in a rut and not sure how to get out? Do you ever get lost in negative thought patterns and have been searching for peace from that? Are you looking to strengthen your connections with others (partners, friends, family, coworkers, etc.)? If you answered yes to any of these questions then I very well may be able to help out!
My name is Josh Krantz. I created The Honest and began coaching because I feel we are living through one of the most anxiety ridden periods of time and people could use an outlet to talk to. I specialize in stress management and interpersonal relationships. Along with an extensive background in philosophy, I have a B.A. in Psychology. Following my undergrad studies, I worked with children on the Autism spectrum and their families within the home, school and community settings for several years.
Over the last eight years I've run a consulting business centered around logistics and problem solving. I am passionate about connecting with others and helping them see perspective on things they might not have considered on their own. During our work together, I will ask thought-provoking questions to assist you on your journey towards self-discovery. I look forward to working with individuals ready to deploy self-awareness and the desire for growth.
Reviews
4 reviews (5.0)
I am a veteran of the United States Army. I constantly struggle with anxiety attacks and worry and stress. Josh really helped put things into perspective for me about being the witness to my own thoughts and being more present. This has immensely helped my mental health and my life. I really recommend Josh as a coach because he goes above and beyond to truly understand what you were going through.

Jeremy H.
Josh is one of those coaches who immediately disarms you and makes you feel at ease. His thoughtful and considered advice, coupled with a unique perspective on your problems, whether they are anxiety or relationship driven give you real world tools to start healing. I have worked with Josh on multiple occasions over the last few years and consider him an excellent resource to help me navigate this crazy world.

Richard E
Speaking with Josh on a weekly basis has been helping me achieve life objectives. So far it has improved my personal and professional relationships, while also helping me balance daily life. Josh is helping me gain confidence all around! Highly recommend him if your looking to make life changes.

Ashlee F
Josh has been absolutely incredible to work with over the last few months. I struggle with anxiety and he has helped me to change my mindset for the better and really work through my problems. Josh is also a great listener and has a lot of empathy for his clients and whatever they are dealing with. He has been a wonderful support to me and I highly recommend him to anyone looking for help as well.

Cate C