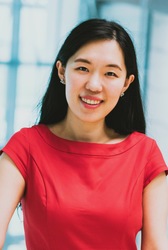 Entrepreneurship Coach, Life Coach, Performance Coach
PCC, Marshall Goldsmith, MAP
I'm a creativity coach, and I look for people who want to explore ideas and be creative! I work with entrepreneurs, Architects, Authors or whoever is creative and looking for sparks of ideas.
About Me
People say I have a warm and joyful character, in line with my name. Indeed, I feel joyful most of the time and count my blessings and inspire people around me. However, the joy in me was build up from many down moments as well, and I learned to stand up again from every fall with an even bigger smile!
I worked in a corporate environment for 12 years from an engineer to a principal, witnessing all kinds of levels and characters in the organisation, know how it feels in a large organisation; I was a board member of a startup (serie-C funding and acquisition), I understand the process; I'm also a mother of two young kids and trust me, I know exactly what the parents complained and cheered for.
I'm holding an ICF life coach credential, Marshall Goldsmith certification, ongoing MAP practitioner certification and Chinese Ba Zi (八字) reading. I've passionately learned many exciting aspects of coaching, and all these are aiming to support the client in a more holistic approach.
My Creativity Coaching Framework:
Stage 1: Self Empowerment. This is to clear your inner doubt, fear, and concerns.
Stage 2: Belief structure. To help you exam your boundaries and challenge your limit.
Stage 3: Core values and creativity. The most fun part! You are on your vehicle of creativity! Enjoy your ride!
Reviews
Joy doesn't have any reviews yet.