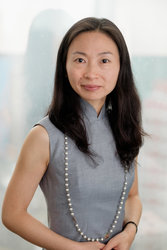 Leadership Coach, Life Coach, Spirituality Coach
Transformational Coaching; Team Coaching; Holistic Health Coach, IIN (New York); Feminine Power Transformational Leadership Coach
I coach woman leaders and entrepreneurs. I help them to be more aligned with their vision, make bigger impact, operate at fuller capacities while feel confident, happy, healthy and with no stress.
About Me
Judy has spent years in Fortune 500 companies. She has excelled but also been stressed, lost. However she has been able to transform and manifest a life that she truly loves - and that looks very different from the life she led over a decade ago. She shifted from ego-serving to soul-serving; she evolved from unhealthy achiever to healthy achiever to powerful creator.
Judy created the Balance group of companies with a vision that is aligned to her true purpose of supporting people in their journey to health, balance and personal transformation.
As a visionary leader she is innovating to create a symbiotic relationship between purpose and profit, to build a human centric organization, integrating coaching, nurturing and traditional performance management to support the team around her.
In her heart she has always been a coach. She coaches as a leader, as a wife, as a mum of two young kids and of course as an executive and life coach.
Judy has coached senior executives and entrepreneurs across Hong Kong, China, Europe and USA.
My Approach:
My mission is to help senior leaders and entrepreneurs transforming into healthy achievers and powerful creators. I want you to operate at full capacity, with more ease, to maximize your impact and well-being.
To truly Thrive on the outside, you must be Whole on the inside. Judy provides knowledge, tools, practice to support you in mastering the journey, including:
Optimized Mindset – programming life's algorithm: to identify the set of limiting beliefs that hold you back and build a new set of empowering beliefs that inspire, ignite, propel you forward with ease.
Optimized Power - authenticity & alignment: To dig deep and connect to the highest place within yourself, then operate from the alignment with the fullness of who you truly are.
Optimized Health – the holistic approach: to support you to create a masterful day to optimize your health and performance through nutrition, exercise, sleep, emotions & mindfulness.
Reviews
I am very glad to have had the chance to be coached by Judy, she has a unique style of holding one's space and enabling the person to feel at ease to open up and dig deeper on what can be holding him back. She then helped me to reframe the negative beliefs that have been pretty much written in my subconscious as a software. With her gentle and charming style, she then helped me to gain clarity and vision on my next short term and long term steps. I highly recommend Judy to busy business professionals who have a need to slow down and gain focus and clarity on this life goals.

Laurent Kabbabe