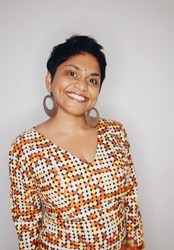 Life Coach, Spirituality Coach
ICF coaching certificate, Masters in Counselling Psychology, BBA
Helping women above 30's unravel trauma induced limiting beliefs, self-sabotage behavior, set boundaries, promote self-love and reach fullest potential in life, relationship, career and finance.
Details

Doha, Doha

+974 50824763

Send Message
Visit Website
Hourly Rate: $75 to $150 US Dollars
Gender: Female
About Me
Everyone goes through trauma at some point of their lives but don't realize the impact it.
If you are over-eating, over-exercising or over-working without fulfilment.
If you know you have to move on but can't seem to ask for the promotion or career change.
If you are giving yourself reasons all the time.
These are just simple examples of how trauma manifests in your life and holding you back from all the potentials, all the fulfilment you deserve and capable of achieving.
Trauma is very close my heart. Being a first-generation minority immigrant, I've been through my fair share of physical and emotional abuse and a whole load of 'I am NOT enough' in my life. However, practicing counselling, in countries like Romania, Russia, Ghana and now living in Qatar, I've seen people opening up about their deepest fears and vulnerability. My Masters in Counselling, BBA and Coaching Certification give me a unique perspective in coaching.
Ideal client
i. Motivated professionals who want to change their life permanently, no quick-fixes.
ii. Clients who feel stuck in a loop and can't move towards their goal.
iii. Client who has gone through adversity in life, childhood trauma, abuse even a bad marriage or a breakup
iv. Introverts, perfectionist, overthinkers and over-doers.
For me, coaching is not picking up from your 'now' and moving forward, it is about making the best out of your past experience to move stronger and wiser forward. My approach is a holistic one that;
i. Promotes self-love and create boundaries
ii. Increases confidence
iii. Reconnect you to yourself
My program is called Bust Beliefs, Redefine Life! Healing doesn't have to be a painful battle.
Reviews
4 reviews (5.0)
I'm forever grateful for the growth I experienced sharing my journey and pain with Juliana. She is a great listener, compassionate and she was able to recognize my gifts and potentials even when I did not. By allowing Juliana to reflect my true self back to me, I have healed, learned and found new reasons to enjoy life.

Dominic, USA
Juliana is a huge asset to our team. She is committed, dedicated and versatile in her approach, which creates an authentic connectivity with clients.

Patience, Ghana
Juliana is culturally sensitive and respectful. Her gentle temperament, polite manners and exceptional sense of professionalism is highly commendable.

Lynda, Ghana
I am grateful for Juliana for seeing my potential. I am now inspired to start my new journey now!

Patty, USA