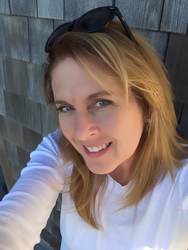 Julie Miller

Portland, Oregon
Business Coach, Entrepreneurship Coach, Life Coach
I help clients overwhelmed with ideas and goals create their own business blueprint so that they bring their entrepreneurial dreams to life. Confusion to clarity to action to results to celebration!
About Me
Having navigated the sometimes rough waters of single parenting, career changes, the loss of parents, and basically life, I took a look at my life and wondered if there was more out there than just showing up to work and being a good neighbor. Where was the passion, the creativity, the freedom I craved? Having this conversation really honestly with myself led me to becoming certified in life coaching. The first thing I had to change was my own mind, so using many different modalities, including meditation, coaching, personal development seminars, etc., I started to overhaul my life, creating a beautiful blend of entrepreneurship, community, fun, hard work, and yes, freedom.
I have spent my adult life in corporate America, working for very large organizations, climbing the ladder, getting knocked off the ladder, and then finally jumping off the ladder myself. I went to work for a small, privately owned company where my skills as a leader, trainer, and operations manager could easily translate. But something was still missing.
I enrolled and received 2 certifications from one of the best coaching programs in the world iPEC (Institute for Professional Excellence in Coaching) and one through the ICF (International Coach Federation).
I have coached on everything from starting a business, to creating boundaries in relationships, to changing careers, to general overwhelm in life.
Coaching is an interactive process and I enjoy co-creating a blueprint for clients to help them move from where they are to where they want to be through a process of marrying values to action.
Reviews
5 reviews (1 verified) (5.0)
Julie and I just started working together and already she is impacting my life for the better! She is motivating, encouraging and funny, and also tells it like it is. She is a true pleasure to get to know and I am so happy to have found her.

Beth
Some people make such a difference in your life that it is hard to find the words to express it. Julie Miller is one of those people. I have been working with her for a few months and my quality of life/productivity in my work/ability to "show up" in my relationships has skyrocketed. Her coaching style is a wonderful balance of structure/tools and flexibility. She comes prepared and I highly recommend her to anyone who is ready to do the work, but wants guidance on how best to focus their efforts. When I started looking for personal coaches, I interviewed several. When I asked details about their approach I got responses like "I just let my clients decide where we go." Julie completely stood out in this process because while she makes my priorities her priority in the session, she also brings tools that help me to better understand what REALLY needs to be addressed. Our first few meetings helped me get to the core of my challenges, and I am certain that Julie saved me a lot of time, effort and money in the process. But my favorite aspect of her coaching is her honest approach. I came seeking feedback to improve, and Julie has given me truthful, constructive comments that are informed by her years of experience in business and as a coach who has obviously gained insights from working with many different personalities. A session with Julie is basically like having the best workout of your life with tons of positive energy and a dash of humor.

Amy Boles
Julie is a very effective coach, and Ive loved working with her. She asks great questions and really helped me learn how to shift some of my patterns. She also offers a good reality check when stuck in my own head. The energy she brings to each session is contagious and really helped me transform some of my thinking to help me create real change.

Pennington A
I have been working with Julie for several months now and have experienced both personal and professional growth as a result. She has helped me to navigate and optimize opportunities using intuitive insights combined with her vast business knowledge. I always come away from our sessions with vision and concrete steps into how to move forward with my goals. She is very supportive and at the same time she challenges me to push myself. And in doing so, I have accomplished a great deal with building my business. Also, Julie has a great sense of humor which always helps put me at ease. I highly recommend working with Julie if you are ready to take responsibility for your life and are willing to take the necessary actions to achieve your dreams.

Lisa
Julie is an amazing and genuine individual. You definitely want in your corner as a coach. She is a true grit, hold-you-accountable coach who is gifted at helping a client explore what is possible and tirelessly being available as a connector and confidant through your growth and transition process. Julie also offers tremendous real-world life and corporate experience which adds significant context to the more immediate problem or solution clients are trying to resolve to get to their end goals.

Jim Mooney