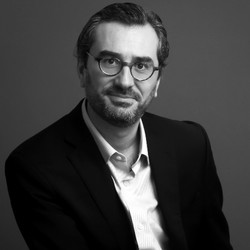 Julien Marzouk

New York, New York
Leadership Coach, Executive Coach, Business Coach
Columbia University Leadership Coaching Program Certified
I coach C-level executives & entrepreneurs working with high-growth organizations. I help my clients become better managers, achieve greater self-awareness and gain clarity in their strategic vision.
About Me
- Overview
Julien Marzouk is a professional certified coach (Columbia University) with more than 15 years of international business experience, working with C-level executives & entrepreneurs across industries and geographies. He is a Cofounder and Partner at Kinesis Partners, a New York-based strategy consulting firm focused on helping high-growth organizations in their international expansion.
Julien has worked at top tier consulting firms and managed large teams in technology, consumer goods, manufacturing, financial services and life sciences. He has lived and worked in 7 countries.
- Coaching Approach
Julien is a future-oriented & solution-focused leadership coach and applies Columbia University's Coaching program's research-based best practices, which are informed by strategic forms of learning, whole-brain thinking, organizational effectiveness and global leadership. Julien serves clients as a thought partner and sounding board to help them achieve greater self-awareness and become better leaders, business managers, and entrepreneurs.
He guides them to identify goals, opportunities & challenges and craft actionable plans that they feel empowered to execute. His specialties are strategic vision, 360-degree feedback review, change management, effective communication, intercultural coaching, organizational effectiveness, transitioning into a new role and developing self-awareness. Clients appreciate Julien's extensive experience in business & strategy combined with his ability of dealing with deeper personal issues.
- Education, Publications, and Professional Affiliations
Leadership Coaching Certification Program | Columbia University
Master of Business Administration | Dual Degree in Corporate Strategy & Organizational Development | Bocconi University & Neoma Business School
Member of the Technology, Startups & Entrepreneurs Committee of the French American Chamber of Commerce
Reviews
2 reviews (5.0)
Julien's coaching was a wonderful partnership at a time where I was defining and building my business. Years later, it's great to look back at our journey together and all that was accomplished since! I would definitely work with him again and recommend his work!

Annie
Julien is an incredibly perceptive listener, who is able to provide invaluable insight, and guide one towards problem resolution. He is able to offer strategies and techniques to resolve complex situations, dilemmas or roadblocks; this being instrumental in guiding one through challenging periods. With his guidance, one is able to make significant progress with ones personal goals, as well as, strengthen ones ability to productively analyze and resolve any internal conflicts that prevent one from moving forward.

Veronika Grinstein