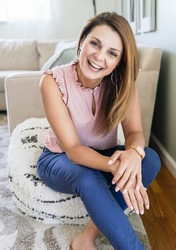 Kalina Cardoso

San Diego, California
Business Coach, Entrepreneurship Coach, Career Coach
I partner with driven individuals who want to launch or grow a business holistically. Together, we identify and leverage your superpowers so you can experience fulfilment, purpose and pride.
About Me
With years of coaching experience, 5-star client reviews and gold-standard coaching credentials, I offer a professional service you can trust.
Entrepreneurship, in my humble opinion, can feel like a spiritual journey. It requires us to grow and stretch, to trust, to have hope and to give our best while surrendering what's out of our control.
If we work together, I will support you in creating a bold and inspiring vision which will move you forward to becoming the best version of yourself.
Together, we can clarify your brand and business mission, plan your strategy for growth, launch, and problem-solve weekly, all while maintaining a high quality of life.
My promise to my clients is that I'll provide the tools, support, accountability, and strategy for you to get on your own path of success with confidence so you can live your "best-case scenario" ASAP.
A few nuggets about me:
I'm a San Diego transplant from Bulgaria who loves the ocean, oat milk lattes, and lululemon leggings, but who doesn't?
I'm a mom of an 8-going-on-16-year-old wild princess.
I've been living a plant-based life since 2011.
I love nerding out on business, personal development books, marketing courses, relationship TED Talks, brain science podcasts, and most things mind/body/spirit-related.
Despite my nerdy, bookworm side, I also have a more loud, fun, and goofy one. I enjoy an occasional glass of champagne, deep belly laughs, dancing like a rap star, farmers markets, trendy coffee shops, crystal shopping, and yoga and sound healing classes.
I love calling my clients "Beast" or "Badass" if they get something awesome done, but I definitely try to keep it classy.
Pizza and croissants are my weaknesses.
Workout-wise, I enjoy heavy lifts accompanied by some gangster hip-hop, but also weekly runs on the beach and a great yoga class.
I'm an expert skier. My first job was as a skiing instructor and I mostly worked with children.
Reviews
3 reviews (5.0)
Kalina is the BEST. Working with Kalina has enhanced my life both personally and professionally. As a working mom, I had a hard time balancing it all and feeling like it was ok to take time for myself. Through our conversations, I've learned to set better boundaries and communicate in a clear and focused way. Kalina has helped to identify limiting habits, and suggested ways to consciously change-- allowing me to be more successful in both my work and family life. I always feel inspired and motivated after our meetings. She is authentically kind and empowering, while still holding you accountable. I've been working with Kalina a little more than a year and I'm the happiest I've ever been

O.S.
When I got laid off from my full-time job during the pandemic, I decided to take the opportunity to start my own business. I could not have learned how to do any of it without Kalina in my corner. Every conversation we have is full of great advice, insightful questions, and tons of laughs (she's hilarious ), and I always walk away feeling empowered and confident in what I'm doing next. Since I've been working with her as a coach, she's helped me land new clients, determine the direction of my business, build my branding, overcome insecurities, and set boundaries. My life is better with her in it, and I'm truly grateful for her coaching.

Emily Blackwood
Before working with Kalina, I was hesitant to work with a business or life coach. I wasn't really even sure what a business coach does. However, I met Kalina at a networking event and was really drawn to her unique charisma and sharp wit. Once I started working with Kalina, I realized how absolutely essential her support is. The best thing about Kalina's service is Clarity. I would start each call with a vague vision about what I want to accomplish and I would end with clear, actionable steps on how to achieve my target goals. Kalina is also great about helping you align your deeper vision with your action steps. If you are a solo-preneur, entrepreneur or someone wanting to start a business, I highly recommend that you try Kalina's services!

Awais Spall