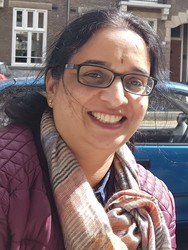 Kamakshi Sikha

Hyderabad, Andhra Pradesh
Executive Coach, Leadership Coach, Life Coach
Diploma in Professional Counselling, AIPC, Australia,Masters In Clinical Psychology and Organizational Behaviour
Those who wants to achieve their best in terms of their personal & professional lives,ready to tap into their inner potential and bring out the best in themselves creating abundance for self & others.
About Me
Kamakshi Sikha
Intelligent Leadership Executive Coach, ICF-ACC, Certified Life Coach, Certified Executive Coach,
Career Transition Coach, Corporate Trainer
www.kamakshisikha.com| +91 9949 046 139 | kamakshi.sikha@gmail.com
EXECUTIVE SUMMARY
Kamakshi specializes in Personal, Executive and Leadership Coaching to have a positive impact on individuals and organizations. Her coaching style is holistic, value-based and client-centric with an emphasis on character building and personality development.
Her purpose is to help people move forward, achieve their goals and at the same time to be congruent with their values. Her approach is based on positive psychology and is solution focused. Her coaching challenges the validity and realism of existing goals and encourages the adoption of new and novel viewpoints before considering the practical aspects of commitment, planning, and action. The focus of her work is to enable the learning and development of others.
Kamakshi is Coached and Certified by one of the World's top coaches, John Mattone as an Intelligent Leadership Executive Coach. She is also an ICF certified ACC, working as a Life Coach and Executive Coach.
She has been a Corporate Trainer imparting Leadership, employee engagement and behaviour trainings. She has coached and mentored people in achieving their higher goals both at professional and personal level.
Her innate ability to connect with her audience as a facilitator, Coach Mentor helps her succeed in delivering results.
Kamakshi is currently empanelled with two Multi-National companies as their Senior Trainer and Career transition coach. She is also a faculty member in Institute of Chartered Accountants, training qualified Chartered Accountants in Leadership and management.
She has a Post-Graduation in Psychology with Clinical Psychology, Organizational Behaviour and Counselling Psychology as her Majors. She has done her Master's in English and a certificate course in TEFL.
Reviews
Kamakshi doesn't have any reviews yet.