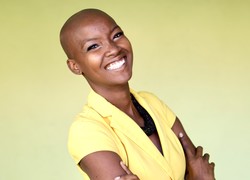 Kamaria Joy

Los Angeles, California
Executive Coach, Leadership Coach, Life Coach
MMS Executive Coach Training Certificate (ICF), Coaching Certificate (ATD - Association of Talent Development)
I work with corporate professionals ages 33-46. I help you get unstuck, find meaning & purpose in what you do, re-ignite your drive & inspiration, and FINALLY get happy in your career.
About Me
No BS Executive Mindset Coaching To Get You Unstuck
Are you a corporate professional age 33-46?
Are you:
- In a career rut and feeling STUCK?
- Feeling mentally exhausted?
- Lacking meaning and purpose in your work?
- Struggling with a lack of inspiration & motivation?
- Done with the outdated corporate culture?
- Unhappy at work?
Would you like to:
- Get out of your career rut
- Establish clear career & personal goals
- Find meaning and purpose in what you do
- Re-ignite your drive and inspiration
- Show up authentically
- Advocate for a caring, centered leadership style in your office and inspire your team
- Be a part of re-defining the outdated corporate culture
So who the heck am I?? WELL, at one point I WAS that stuck person. After 10 years of working in hospitality and climbing the career ladder, I started feeling unfulfilled. While I enjoyed interacting with people, the monotony and lack of purpose frustrated me more every day.
I knew I wasn't meant to wake up dreading going to work. Or spend all day at the office counting the hours to go back home. Something had to give.
It took me 3 YEARS of research, trial, and error. Finally, after mixing multiple personal development training programs, implementing new spiritual practices, mindfulness awareness, and professional development I figured it out! I discovered the recipe to get unstuck, be happy at work, show up authentically, do a job I LOVED, AND transform the corporate culture & mindsets around me!
Because of this, you will get to experience a SHORTCUT to feeling motivated, inspired, and passionate about your work again. You will also walk away with a clear picture of what you want next personally & professionally and have the confidence to step into it as an authentic and compassionate person!
Your career breakthrough is one call away.
Reviews
9 reviews (5.0)
Kamaria is a phenomenally talented coach who offers a range of approaches, tools, and skill sets. She's an incredibly attentive listener (honestly, probably the best listener I've ever met in my life) and based on what she hears, she repeats back different options of solutions we can investigate together. She checks in to see how I'm feeling and what my emotional bandwidth is, and isn't pushy. I feel like we co-create our sessions, and she involves me every step of the way. One of the things I like most about Kamaria's coaching is how Socratic she is in her approach. She asks a series of questions to help me find out what's in alignment for me; according to my own morals and values. I feel like a lot of coaches tell you what to do, or just give their opinion. Kamaria guides you to understand yourself better and live by your own standards. She holds a strong container of non-judgement and is completely grounded, which makes me feel safe to open up to her about anything. I trust her deeply. She's one part wise sage, one part joyful and playful optimist. Anyone that has the opportunity to work with her will agree she's one of a kind and incredibly gifted in this line of work!

Sitara
I came for help with my business, and I left with a new mindset that took my life as a whole to a new level! Coach Kamaria helped me break through mental blocks and overcome limiting beliefs that have left me feeling so clear, confident, and sure of how to manage my business and personal life. Work is now streamlined, stress free, and thriving. I highly recommend Kamaria for executive coaching- youll get more than you signed up for.

Kim Morrell
Kamaria is truly a powerhouse of a coach. It's apparent that she is meant to do this work, she has an innate talent for it. She always intuitively asks the right guiding questions to get you to discover what's holding you back in your life, and clear any blocks or fears or limiting beliefs you may have or feel stuck around. She will make you feel seen, heard, understood, and get you to a place of clarity and action. If you ever get the opportunity to get coaching from her, do it!!!

Crystal Paige Zelaya
Kamaria has been a great support. Get energy and guidance as I search for a new career helped land some amazing interviews. She gave me insight on new industries I would thrive in and I have not looked into before.

Paul G Dappert
Kamaria is a fantastic coach! She's easy to talk to, challenging, efficient and effective. She is sharp and focused and quickly helped me get clarity around what I really want out of my career change and what my next steps are. I highly recommend her!

Adrienne Litchenberg
Absolutely amazing! She asks all the right questions clarifying direction and intent, helping you achieve your dreams and desires. Very organized precise and caring. You will get a very well-rounded, entire picture experience to help you no matter what area of your life, Business, personal growth or otherwise.

Joe B
Talking to Kamaria is so easy. She really listens and gives honest feedback. She has amazing energy and she made me feel so comfortable to open up. We chatted for about an hour and wow, what a breakthrough! We were able to figure out some of my deepest fears and why I was getting in my own way! All I can say is Thank you, Thank you, Thank you!

Raymond Stover
Working with Kamaria helped me achieve the promotion I was after & improve my sleep habits. Kamaria worked with me to build confidence, identify triggers, & develop practices to minimize my anxiety. This has been a long journey & working with Kamaria has been well worth it. I highly recommend her

Allie
My career coach Kamaria was amazing. She was able to help me sort through my goals and create focus for the first time in my overall career goals. I feel like I am following my passion and it's not just a career anymore. She helped me align with what comes easiest for me. She was able to get me motivated and back on track. She is a breath of fresh air and full of wonderful ideas. If you're in a rut and need to get clear and concise coaching about your career and your life then she is definitely the coach you seek. Thanks so much Kamaria.

Maria Alicia