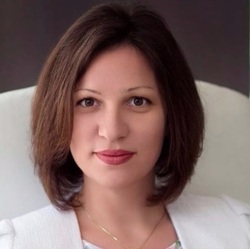 Kamelia Allow

Dubai, Dubai
Business Coach, Entrepreneurship Coach, Performance Coach
Senior Certified Professional Coach (ACSTH), The 5 Prism method in the work of a coach (CCE)
I coach business owners who straggle with being at the top, needing support, validation, and direction, balancing business, family and health. I will partner with you, so you won't have to go it alone
About Me
As a result of taking coaching sessions with me, small business owners are able to take up challenges on the go, explore their true entrepreneurial potential, take their business to the next level, and empower growth in their business.
I will be delighted to work with ambitious business leaders who are looking for:
1. Achieving a higher level of personal and business performance
2. Setting clear short- and long-term business goals
3. Business growth direction
4. Awareness and efficiency
5. Innovation and efficiency in execution
6. Streamline expectation
7. Right approach to take their business to the next level

For over 10 years, I myself was an entrepreneur - a business owner of one of the top-performing Accounting Firms in Dubai, UAE. I clearly understand the pains that come with being at the top, feeling alone, needing support, validation, and direction.
Have you ever felt the same? Let's change that together.

I strongly believe that to survive in a world of Big Data and complex Cash Flow, entrepreneurs have to be smarter than ever before, through constant updating and continuous learning. I can't wait to help you achieve your next business goal!
Reviews
10 reviews (5.0)
Before meeting Kamelia, I used to feel stuck in my career and unable to organize my daily habits properly to achieve my goals. Because of the coaching program of coach Kamelia, I can now manage my time properly, I became more aware of the opportunities around me, and my savings keeps increasing day after day. I've developed on a personal and business level, improved my financial perspectives in life, and got to better analyze and explore options available before taking any business decision. Thanks to Kamela, progress, and improvement became part of my daily routine.

Joe Koueik
Before I started working with Kamelia I was the typical startup burnout, spending extensive hours trying to do all by myself, carrying all responsibility on my own, thinking it is the right way. After eye opening sessions with Coach Kamelia, Ive been able to correctly delegate most of the operational duties to my team courageously, this in its turn helped me to allocate space to create and expand sales and marketing for my business, which in return increased the sales. Coach Kamelia helped me prioritize my most important tasks and focus on the most profitable goals. Now I have a clear vision and crystal clear focus on what is pulling my business towards the main goal of growth and profit generation thanks of the awareness of all inner conflicts and knowledge how to handle and manage them.

Angel Petkov
When I just started my first business, I thought I was ready for the obstacles I will meet on my way. What I did not expect how difficult it will be to change mindset - from a managerial vision to step into a business owner shoes. It seemed to me that whatever could go wrong did and here is where business coaching sessions with Kamelia literally changed my world. Kamelia, being a very successful entrepreneur herself, led my transformation by asking me very deep and correct questions, which I would not dare to ask myself. This experience was extremely eye-opening and resulted in amazing personal and company achievements I gained a strong confidence in all my business decisions and closed several impressive deals with big companies just in a couple of months. I am pleased to recommend Kamelia to all startup owners and generally to all entrepreneurs willing to boost their personal and business performance.

Anna Tkachenko
Kamelia is your go-to business coach. If you find yourself stuck, confused or simply unsure where to go and what to do with your business start-up or wanting to take it to the next level, please dont deprive yourself from the opportunity of working with this business guru. She assisted me getting out the bravest version of myself and put me on the path of success. Highly recommended.

Samar H.
Kamelia Allow is a great coach, with whom we have been working since 2020. She creates an atmosphere of confidence that is conducive to working on my personal and professional goals.

Olga Vilkovskaya
Kamelia is a great business coach who is a really good listener and she knows how to create a safe space for you to explore new possibilities. Her years' of experience of building a successful business means she knows how to ask the right questions which will help you take your business and professional development to the next level.

Jeanine
Coach Kamelia is quite responsible, professional and kind. She guide me to find an inner me, which helps me understand myself in a better way. Coach Kamelia doesn't tell me what is the solution, she helps me by asking the questions without directly telling me how to do it. The think style she taught me is quite helpful. She is a light in both my business and life.

Mei WANG
My experience with her has been very positive and productive.

Keren Jadhav
Kamellia has a prifessional approach to coaching, she sees beyond what you expects, and gives insights to help you move further

Reem Faysal
My coaching sessions with KamelIa were really insightful. I learn a lot about myself, my thoughts and my behavior. She helped me shift my thoughts to more positive ones and I am training myself now to watch my thoughts and keep them in check. This helped me on both personal and professional levels. I am really thankful for her guidance.

Yasmine Effat
The Smart Way To Find A Coach

1 Describe Your Goals

2 Get Matched

3 Free Consultations
Find My Ideal Coach Now