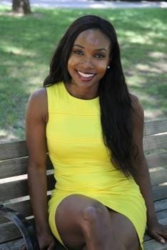 Kareemah Sabur

Boston, Massachusetts
Life Coach, Health and Fitness Coach, Career Coach
MS, Harvard University BA in Sociology
Hello, my name is Kareemah Love Sabur. I imagine inside every person is a safe and in order to unlock your potential you need to find the right combination.
About Me
My job is to help you find that combination. I empower people from all walks of life to make optimal decisions for their long-term holistic success by teaching them to overcome psychological and social challenges, and providing them with the accountability that leads them to create their best life yet.
I hold a Bachelor's degree from Harvard University, attended Harvard Law School and have a Master's of Social Work with a focus on clinical Mental Health from Boston College. Additionally I have worked at several Fortune 500 companies, all while working to maintain physical, social and psychological health.
I start from the premise that you are strong and ready to grab the tools of effectiveness, knowledge in order to "unlock" your best self. My work is both dynamic and collaborative. That means, while I am formally trained and have several years of experience in some of the most cutting-edge approaches in coaching and therapy (dialectical behavioral techniques, motivational interviewing, cognitive and behavioral techniques) I rely on our relationship, your goals and your feedback to help steer us toward your desired results.
I am especially excited to work with people who are at transition points along their journeys and are looking to create more balance and fulfillment in their next chapter of life. Career changers, or those looking to negotiate new and powerful avenues of possibility are particularly welcomed.
I am a Certified Nutrition Coach, Personal Trainer and Weight Loss Specialist through the National College of Sports Medicine and believe firmly that physical health and life success are deeply intertwined. Together let's unlock the best parts of yourself so that you can enjoy the best that life has to offer.
Reviews
3 reviews (5.0)
I was an out of shape 45 yr old office worker wanting to shed some pounds and improve my strength and endurance. Kareemah helped me plan meals, workout routines and encouraged me, often, to actually get off my butt and DO it. She's a great motivator. She even helped me pick a gym near my office and suggested classes to take. I'd have never considered classes were it not for her. Those classes, plus my own routines she helped me with, got me in tremendous shape. I felt amazing, lean (like seriously low BMI), strong and super confident. So much so that I then began running JP Morgan events and playing soccer with co-workers half my age - and I could more than keep up! I owe all of that to Kareemah. You can, too!

Chris B
I had a very positive experience working with Kareemah. She was very informative and accommodating I had great results. Id definitely work with her again.

Patricia G
Working with Kareemah, I lost fifteen pounds in two months, and, following a workout program she prescribed, I am establishing muscle tone and feel great. I knew she was great with weight training, but I didnt know she knew so much about nutrition. Im eating healthier, and its good food.

Carl