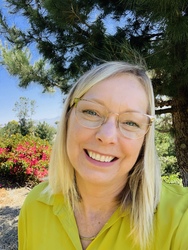 Karen Davis

Portland, Oregon
Spirituality Coach, Relationship Coach, Life Coach
I coach individuals who long to have meaningful, healthy relationships but who find themselves struggling to know how to achieve that. I help my clients move beyond their circumstances and into joy.
About Me
Relationships don't have to be a constant tug-of-war. My Single Thought approach helps my clients move beyond the frustrations of their current circumstances, beyond what their partners bring to the table and beyond their own past life experiences to discover that they can have peace and contentment no matter their circumstances.
I am a trained Relationship Coaching Specialist who has been in a rewarding marriage for over 40 years. I know first hand what it means to move from hopelessness in my marriage to a healthy, contented and loving relationship with my husband.

But I don't only coach married couples. I use CBC, My Single Thought Method and other tools in my work with;
* singles
* friends
* parents
* adult and younger children
* siblings
* I also help you to come to terms with leaving a doomed and unhealthy relationship if you decide that is what is best.
Relationships don't have to be a constant struggle. Learn the secrets to mastering your own thoughts, developing healthier emotions under your circumstances and taking productive action steps that will help you get the results that you need to move forward toward the kinds of relationships that you desire.
Reviews
Karen doesn't have any reviews yet.