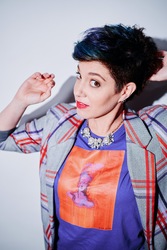 Kari Ginsburg

Alexandria, Virginia
Entrepreneurship Coach, Life Coach, Leadership Coach
BA, Associate Certified Coach (ACC), Certified Change Management Professional (CCMP)
My clients are ambitious, successful, unconventional and bold. They may not fit into traditional definitions of leadership or gender, but that's what gives them power. We celebrate that, together.
About Me
Hi! I'm Kari Ginsburg, owner of Uproar Coaching, LLC. If you want to spread out, get loud, and be a boss bitch... then you've come to the right place.
Clients often ask me: how do I know if I'm ready for coaching? It's simple: you know where you are and where you want to be, but you see a gap between those two points in your life. You don't know how to bridge them. ​I call that gap the FUNKNOWN and that's where coaching comes in. It's the in-between. It's a place of opportunity, choice and risk. It's where you assert your bravery to let go of old tactics for the new world you're creating. That's where we play.
I coach female-identifying and femme entrepreneurs who, for one reason or another, are feeling incomplete. That incomplete or unsatisfied feeling is beginning to infest other parts of their lives. I've coached clients who are looking to bring joy and play back into their lives (one client's goal was to "get her mojo back"); who are looking to make a huge professional shift and don't know how or where to get started; who are looking to rebrand themselves within the industry they've worked in for their entire careers; who want to find a more equal work/life integration; who want to own their "misfit" status among their industry peers; who want to unapologetically be themselves. The list goes on. If you're feeling incomplete or unsatisfied or just meh... don't you deserve to feel whole?
Some bells & whistles: I'm a certified Professional & Life Coach through the Academy of Creative Coaching, and a member of the International Coach Federation where I've earned my ACC credentialing. I'm one of the first 500 people in the world to receive the Certified Change Management Professional credentialing from the Association of Change Management Professionals; I'm also a certified civility instructor for leaders and employees through ELI, Inc.
Reviews
3 reviews (5.0)
Kari is incredibly encouraging and motivating. She listens well, and asks insightful and relevant questions. My sessions with her have been a huge help in gaining momentum and moving forward in my life and career. I highly recommend her!

Caroline
Kari is unfailingly supportive. She's great at catching little, offhand things you say and making sure you explore them. I trust her, especially for creative advice. She works to lift you up and set you in motion. She's also good about checking in on you. I'm not the best at follow-up, so it really helped to have her send reminders. Hire this awesome woman!

Karen Lange
Kari is an incredible coach. During the most stressful period I have experienced in years she was a steady and insightful presence in my life, encouraging me and helping me stay focused on what my priorities are. I'm coming into the end of the year with a clearer mind and steady focus on what I want in the new year. I'm extremely grateful that I have had the opportunity to work with her.

Sasha Davis