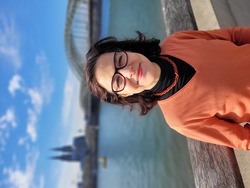 Karla Schlaepfer

Cologne, North Rhine-Westphalia
Leadership Coach, Business Coach, Team Coach
BA, MA, PCC, Systemic Coach, Change Management, PSM1, PSPO, Design Thinker
I coach ambitious, thoughtful, business leaders of intercultural teams striving to improve their impact, confidence, performance and agile leadership in New Work and hybrid collaboration.
About Me
Do you want to be the leader people love to work for?
Learn to be resilient in change?
Get and give better feedback?
Then contact me!
From guiding business leaders in times of transition; to coaching remote teams, to using my business and innovation know-how to improve agile team culture; for this, I have a strong skill set of science-based coaching solutions and a large set of tools to share with you!
I'm a US ex-pat living in Europe. I bring an intercultural aspect to all my coaching. I'm a native Californian. I first earned my BA at UC Berkeley. After moving to Germany, I got my MA in Education. I'm an entrepreneur and female founder.
My journey to become a certified coach began in 2012. First was my accreditation as a Systemic Coach and Change Manager. Now 10 years later, I'm so happy to have earned my 2nd high-quality coaching accreditation (PCC) Professional Coaching Credential with ICF. In 2022, my Master Coaching badge with Solutions Academy.
The exit from my start-up business in 2021, let me focus on my work as a global leadership coach. I coach digitally in German and English and on-site in Europe.
What if you could solve your biggest life challenge?!
Coaching is a valuable tool to transform challenges and all the accompanying strong emotions into real change. These micro-changes are the keys to your personal and professional growth. You can use these to create powerful strategies and move forward. Use coaching to define your purpose - your North Star! Improve and optimize your leadership capabilities and your performance will be more impactful and successful.
My aim is to help you find the keys to your strengths. To dare to get that promotion! Get more recognition! Meet challenges with resilience and confidence, and creatively envision your future path ahead.
My business and innovation coaching is appreciated in DAX enterprises, small and mid-size firms, legal, and universities.
I look forward to partnering with you!
Reviews
6 reviews (5.0)
Working with Karla greatly impacted my career and helped me tremendously. Above and beyond that, she is an active and empathetic listener with an analytical approach. I immensely enjoyed working with Karla!

Lucija Kobal Nakic
Karla Schlaepfer and I have been working together for about three years now but I gladly got to know her already in 2017. She is a very reliable and highly professional solution oriented person. She is fast and flexible and adapts to the needs of the project swiftly. The added value she provides is utterly important for managers and companies to reflect, digest and implement the most recent design changes. That is the kind of input every company needs that wants to reduce red tape and double down on what really matters: Effective output and enriching teamwork along the way! Get her on your team and see for yourself!

Tijan Ramahi
Karla has been a thinking partner and active listener in co-creating better ways to make all the members of my growing team feel empowered and appreciated. Thank you very much!!!

Denise H.
Karla and I have teamed up during the last few months to explore the opportunities of virtual space for new forms of work and coaching for legal professionals. I highly appreciate her open mindset and creative intelligence. Mastering conventional hybrid work settings is already a challenge. However, Karlas expertise even allows her to create a trusting atmosphere in virtual space.

Anita Lamprecht
It was fun working together with Karla. I did take a lot of ideas with me to improve on coaching. This was especally possible due to a very trustful relationship that Karla immediately introduced into our workshop. She always had an ear for our topics and jointly we found good ways forward for each of us. Thank you.

Silvano
I did a lot of workshops with Karla and it was always a pleasure to work with such an experienced coach. She is perfect for international teams and I can really recommend her to your teams or leaders. She is very empathic and has a lot of agile background with a lot of expertise in Design Thinking. Thumbs up!

Uli Pott