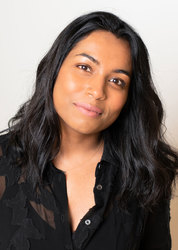 Karthika Bala

Toronto, Ontario
Life Coach, Spirituality Coach, Health and Fitness Coach
Psychospiritual Life Coach (PLC), Certified Vipassana Meditation Teacher, Bachelor of Design
I coach people struggling with anxiety and want to gain control over their thoughts and emotions. I help clients establish healthy routines and habits while healing old wounds, and fostering self-love
About Me
Hi there,
I'm a spiritual and mindfulness coach and meditation teacher but this wasn't always my story. For most of my life, I was trapped in old and negative thoughts and behaviourial patterns. I lived my days believing in a false narrative that was never mine. And I struggled each day to live in the present. But the day I finally surrendered to the universe and listened to my soul is when everything changed.
And now my mission is to help more people live authentically and deeply, free from mental trappings and old programming.
I offer free-flowing sessions that are completely catered to your needs. You will be infused in a space between psychology and the transpersonal. During the sessions, you will discover valuable insights, be challenged by powerful questions, and be guided through various meditations and exercises. Uncover deeper truths into thought patterns, and personality defaults, and develop a richer connection with your inner self.
These sessions are perfect, if you are:
1. FRUSTRATED BY UNHEALTHY PATTERNS...
Whether it's unhealthy thoughts, behavioural or relationship patterns break free from the cycle of toxicity by learning new, and productive modes of thinking.
2. OVERWHELMED BY ANXIETY AND PAIN...
Uncover deeper truths about your emotions, where they come from, and how to gain control over them though mindfulness.
3. NOT SURE HOW TO HEAL...
It takes courage and self-love to begin your healing journey and being in a safe, open, and honest space is essential in that process. 
Whether you're having issues with relationships, your career or feel stuck and lost, I know you already have the tools and wisdom inside to step into your fullest potential and live your life with more intention. And together, we can unlock all your gifts by shedding old personality defaults that are getting in your way and allowing for productive thoughts and behaviour to steer your life in a more positive direction.
Happy to chat further!
Best,
Karthika Bala
Reviews
10 reviews (5.0)
Working with Karthika has been enlightening and a thoroughly enjoyable experience. She is wise, insightful, and completely respectful of my journey. She is masterful at creating a safe container for our sessions and I always feel supported as I navigate challenging topics. If you are ready to take the next step in your spiritual journey, I highly recommend signing up for one of Karthikas packages!

Beth Perry
If you are in need of a coach who guides you to your own inner strength, you are in the right place! Karthika never fails to hold space for me to come back to my soul, my true inner power. She guides you through a journey with imagery and breath that is truly amazing. This has helped me many times get out of my own way by seeing things from a different perspective. Her presence is always calm and inviting, ensuring you always feel safe to explore and be vulnerable. I have cried in almost every session and she held the space so beautifully, allowing me to feel everything with no judgement and guiding me through the experience. You are in loving and open arms with Karthika, you will truly have a transformative experience!

Natalie H.
Karthika guides with gentility, curiosity, and love, and asked the hard questions that allowed me to dive in fully and deeply. She has a compassionate presence and holds space with confident grace. The truths that have emerged from her guidance have helped me to grow, to heal, and to more fully step into my authentic Self, therefore enabling me to be more fully in my power. I am so thankful for my time with her.

Eluña Antle
Karthika's warm and gentle presence, her wisdom, and her skill at asking the right questions are a few of many qualities that make her a wonderful life coach. She is incredibly attuned to a person's feelings and can assess a situation and provide thoughtful and practical guidance. I gained clarity and insight as she helped me navigate a challenging period in my life. I also benefited from her incorporation of mindfulness in her practice. I highly recommend her services to anyone who is seeking to make a positive change in their life.

Nivedita Sekhar
My session with Karthika can be best described as a full body immersion. A bathing in grace, light and love. Her ability to hold such deep presence and reverence, is to be seen, heard, witnessed; to feel the glory of my own soul radiance, to discover, to heal, to shine, to open to the possible and burst forth like a blossoming flower. Thank you Karthika; I have such deep gratitude for your beautiful essence, your embodiment of service and the difference you make in this world."

Debbie Mckenzie
I would highly recommend this program for people that have previous experience with talk therapy and meditation activities, and those who are new to the idea and trying it for the first time. The atmosphere created was comforting, welcoming, and open. It allowed me to explore parts of myself that I rarely tap into. The exercises were enjoyable but more importantly, I was able to be more fully engaged in the experience. 10/10

Shelby
Karthika is a compassionate and loving guide. She hears you with her whole heart. Her presence and perspective will allow you to unfold and share your story, bringing you to a deeper place of self-knowing. I'm so glad I was able to work with her and have her as my witness and ally. It really assisted me in moving to a new fresh phase of my life.

Debra B
I signed up for this session with unknown expectations. After completing it I felt more reassured about the direction that I was heading in and gained a toolbox of strategies to support me in reaching my goals. These sessions are an excellent resource for anyone looking to re-center one's mindset and to explore your own untapped skills within.

Ryan G.
Working with Karthika has been life-changing. It is so easy to connect with her, I always feel like I am in a safe space to share my story and challenges, which makes it an easier process. I have been able to tap into many subconscious blocks that were limiting my potential and my goals. For the first time in many years, I can say that I live a fulfilled life and feel empowered to make clear choices towards my goals. Throughout the process, I have always felt very supported and feel very excited that I am finally getting the clarity I had been searching for. I am always looking towards my sessions with Karthika!

Xime Duarte
Karthika is one in a million when it comes to her coaching and guidance. She is full of this innate wisdom and understanding that allows me to feel fully seen and heard on a deep spiritual level. Her emotional intelligence encourages me to express my internal world knowing she will be able to reflect it back to me with her unmatched intuitive insight. She is a master of Integrating our physical reality with the spiritual body with her deep introspection and knowledge of the material. Working with Karthika has allowed me to understand myself on a more profound level and open up to working with my own gifts in this life. Every session with Karthika is like peeling back an old layer of myself to see the new beauty waiting ahead. Her work is a true blessing and gift to this world and the people she serves.

Brittani Ann Berardi