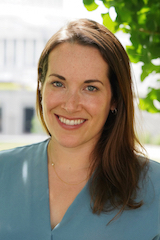 Kate O'Sullivan

Washington, District of Columbia
Executive Coach, Leadership Coach
Coach U Advanced Coaching Program
I work with leaders who are hoping to increase their skills and confidence leading others. I work with clients at a range of levels from mid-manager to C-Suite.
About Me
I've been coaching full-time for 10 years, and prior to becoming a coach I worked in finance, managing teams and developing leadership development systems for the world's largest hedge fund.
In my coaching practice, I work with managers who are hoping to improve their leadership skills. Many of my clients are newly promoted to a new level of responsibility and hoping to have support as they navigate their new role. I have other clients who run their own businesses either as the CEO or Managing Partner, and are working with me to have a sounding board and objective perspective as they think about how to steer their business.
I use a strengths-based coaching approach, starting from what my clients care about and what they do well. I believe that we all lead and perform at our best when we start by building self-awareness and then designing plans to maximize our strengths.
My style is supportive but direct. I want to challenge you and help you be better. This will at times mean that you're being pushed outside your comfort zone.
For some clients I use an assessment tool such as the DISC profile, Hogan, or a 360 feedback process.
Reviews
3 reviews (5.0)
"My work experiences, while strong & diverse, lacked a coherent message in my resume and a focused strategy in interviews. After just one session, Kate was able to understand my strengths and help my resume project a clear vision of who I was and what I wanted. We continued to work through interview strategies and I saw the effort payoff immediately. With the focused strategy that Kate had me employing, I was turning 1st round interviews into 2nd & 3rd rounds, eventually landing the exact job I was looking for after just a few weeks. Kate's personally-tailored interviewing advice gave me a confidence and calmness that allowed me to thrive in the interview process".

?Simon, Risk Management Analyst. Toronto, Canada.
I got my dream internship as a result of working with Kate. I wasn't sure which industry I wanted to pursue, I just knew I was horribly unhappy with what I had been doing prior to business school. I knew that my summer internship was a great opportunity to try something new, but I wasn't sure how to narrow down my possible choices. By asking me thorough questions and learning about my strengths and preferences, Kate helped me develop a plan to pursue a job in the Hospitality industry. With her input on my resume and her help preparing for my interviews, I landed the first job I applied for. Without a doubt, I would not have gotten that job without her help. After 10 years in the workforce, I can finally say that I love my job!

Tim, MBA student, Washington DC
In working with Kate over the past 5 months, I have come to look forward to our weekly meetings. When I first came to Kate I had 3 goals in mind – learn how to create an impactful resume, develop competitive interview skills, and assess my own strengths that I could then use in leadership positions. Kate was patient and thoughtful as she listened to my experiences, asked thought-provoking questions, and made insightful recommendations that helped me work towards my goals. I appreciate that, through Kate's planned approach for each meeting, my goals built off of one another. This made the path forward comprehensive and fluid. I am so thankful for the opportunity to work with a coach as incredibly helpful as Kate!

Courtney, Consultant, Washington DC