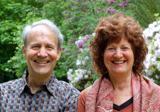 Kate and Sanford Anderson

Olympia, Washington
Relationship Coach, Life Coach, Team Coach
MS, MBA, Certified Hypnotherapist, Certified Instructor
Discover the dream that brought you together. Every relationship has a purpose and opportunities for each of you. Gain tools and understandings to live your dreams. Free introductory meeting.
Details

Olympia, Washington 98501
About Me
It's an honor to participate with your life journey.
As Life Coaches we bring the treasure gained from our personal journeys and training to your challenges and desires. We are here to serve your heartfelt dreams, whether it is clarity about your life purpose, discovering the right career for you or digestion of past events so you can move freely on your dreams.
As a Relationship Coaching couple, we offer you a mirror in which to discover and live the dreams that brought you together. We share tools and understandings that support you to be successful in creating the life you want.
As Certified Hypnotherapists we teach you the skill of accessing your own deeper mind and state of well being.
Often our clients come for individual coaching or hypnotherapy, which then leads to relationship coaching, because relationship is at the heart of everything in life. Relationship Coaching gives the opportunity to learn to love skillfully the precious ones you're with.
With Our Relationship Coaching You Can:
• Enjoy more ease, love, creativity and happiness in all your relationships.
• Understand how to make your relationships work.
• Learn to embrace challenges as opportunities for the growth, self awareness and deeper connection needed to fulfill your dreams.
• "Take the lid off" an already healthy relationship so that it naturally blossoms into a great one!
We are Highly Effective Coaches:
• We've coached together for 13 years and live the principles we teach.
• Your heartfelt dreams are what matter. Our only job is to help you live them.
• We use tools that work. Stay on track with what you want most.
• We love coaching together and seeing you succeed.
"Because of my experience with you I now believe that people, that I, can change fundamentally. You actually seem to understand how people work and what is necessary for them to change." (Niles from California)
We look forward to talking with you. Call for a free meeting by phone or Skype video.
Reviews
23 reviews (5.0)
My life has been profoundly reshaped through my experiences with you. It began when I declared an intent for my life. I had no idea that intent would shift my entire universe and tumble it upside down and inside out. While my former husband was not ready to hear and utilize the wisdom and tools we were offered, I was. My willingness to learn, and your willingness and enthusiasm to teach me led to the most remarkable and healthy life changes imaginable. "Though it has not led down the path I so desperately wanted and hoped for, by staying open to the guidance of life and the wisdom of my guides and ultimately my self, I have created a life that far surpasses anything I dreamed up in the beginning of this journey. I grew up. I learned to see and hear the truth of me and took back the reigns of my life. . I'm no longer walking blindly through life as a victim of my own ignorance. Kate and Sanford have helped me, taught me, loved me, challenged me and celebrated with me during this dance. I love you and will never be the same because of your presence in my life. Thank you.

Kimberly, California
Kate has a gentle yet very powerful way of bringing us to the truth of our old, non-serving agendas. Even more, she helps us develop agendas and practices that do serve us now. She is a superb listener as evidenced by the powerfully impactful feedback we received. I felt accepted and nurtured at a very deep level.

Susan, Washington
Our experience in a marriage retreat helped us become more of who we are and improved our communication which has helped with our family. With our mixed family of three teenagers, these tools have helped us become the family we want to be.

Sherry, Oregon
We've worked with Kate and Sanford during times of change over the last 10 years. They focus on building relationship through activities that allowed us to bond, and grow sweeter and more intuitive with each other. This year we took a leap and moved across the country to experience a different life than we've known. We have so much more confidence in ourselves and our family to live bigger dreams.

Joy & Jeff, Connecticut
In you I have found a true ally, not someone who is paid to tell me something that will make me feel good, but someone who can tell me the truth about myself in a manner that is so truly compassionate and loving I am able to receive it. I have never in my life felt so listened to and heard as I do by you.

Niles, California
Thank you so much for your time and presence with me. I went for a walk this evening and felt like I had really breathed for the first time in a long time. I looked up in the sky and saw what looked like a baby in a womb in the clouds and I thought not only am I about to birth something but I feel as though I am about to be reborn. I sense great things happening with mathematical certainty.

Lisa, Washington
This has been a tremendously informative, learning and life changing experience, totally awakening me to how I will be of better service to myself and others—personally with my family and professionally with my business development. My experience here will reshape/enrich/enliven my new book.

Rafael, Washington
This course was so enlivening to my spirit and enlightening to my mind. I grew exponentially in the past 5 months and am beyond pleased at what I have opened to in my life.

Marilyn, Acupuncturist, Michigan
My experience with you was life-changing. You listened to me deeply and offered encouragement and reframing, always with respect. As a benefit of the work I did, I am writing poetry regularly again after writing nothing since my mother's death and my start in nursing. This past year it has come back with many additional blessings. I credit your mentorship with much of the good that has come to me over that past 2 years. Thank you, Kate.

Joanne, RN, Washington
I was preoccupied with work before our marriage retreat. Now with my new sense of balance I am working a lot fewer hours. Before I didn't have an in-basket for certain parenting things. I was honest enough to admit that and now with the tools we learned, I'm really starting to believe I can be a really good parent.

Mark, Oregon
This course has brought me back to myself, an inner self that I have been searching for for decades.

Glen, Oregon
I would recommend this class to anyone who has noticed that "empty" spot in their existence here and who is ready to live a fully felt life.

Gail, Washington
I just wanted to tell you how much you have helped me with everything!! I feel so confident and strong with my relationships with Jeff, friends, and my parents. What I have learned has helped me immensely and I am so grateful to you both. My parents' visit has proved to me that I have made huge strides. I am not perfect — I have had an episode of frustration, but NOTHING compared to what I have been like in the past. I had to share this with you… I am so blessed and feel so strong :).

Joy, Connecticut
I am thankful the universe brought me to you when I needed you most. Life is everchanging and if we stay open to all possibilities, we never know where the journey takes us….You will stay with me forever – woven in my heart and in my world.

Terri, Oregon
Lynda and I think and talk about you often. Much of what we have, what we do and what we are becoming is due to your support and expertise. Because of my experience with you I now believe that people, that I, can change fundamentally. You actually seem to understand how people work and what is necessary for them to change. Thank you both again, from the depths of my heart, for assisting me and Lynda so much. I would certainly recommend you, above all others, for the kind of support you have provided us. It has transformed the quality of our lives. Please feel free to use me as a reference.

Niles, California
You invited me to explore a deeper experience and a grander vision of all that I am and all that I can create in my life. You exemplify the highest level of professionalism and skill.

Laurie, Minnesota
I have never worked with more caring and compassionate counselors. Nor have I known any more able to intuitively, and incisively point the way toward exactly what is needed to be seen, as well as what must be done to reshape negative patterns and destructive behaviors.

Tom, California
My experience with you was life-changing. You listened to me deeply and offered encouragement and reframing, always with respect.

Jeanette, Oregon
Kate gave me tools that I draw on for guidance, creativity, personal integration and joy. Because of the work I have done with her I feel empowered, wise, bold and authentically who I am.

Sophie, California
I have worked with many teachers, consultants, coaches, seminar leaders and trainers in my life and you are, in my opinion, the best of the best.

Laurel, Oregon
When Kate and Sanford say something, I listen. Because everything they say works.

Rob, DDS, Washington
Through everything, Kate and Sanford lovingly guided the transformation, fair, astute, and always compassionate to the needs of us both.

Kathy, California
Kate and Sanford are not only keenly insightful in facilitating relationship work with couples, they are, themselves, inspirational as a couple.

Tom, California
The Smart Way To Find A Coach

1 Describe Your Goals

2 Get Matched

3 Free Consultations
Find My Ideal Coach Now